Reynard Loki is a Justmeans staff writer for Sustainable Finance and Corporate Social Responsibility. A co-founder of MomenTech, a New York-based experimental production studio, he writes the blog 13.7 Billion Years and is a contributing author to "Biomes and Ecosystems," a comprehensive reference encyclopedia of the Earth's key biological and geographic classifications, published in 201...
The Connection Between Biodiversity, Finance and Sustainable Prosperity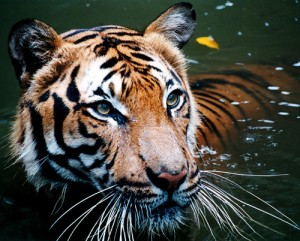 To combat the so-called "Sixth Extinction," we must put a price tag on healthy ecosystems. The financial sector can help

Approximately 10,000 new species are discovered every year. Last year, more than 18,000 new species were officially described. (Check out the Top 10 New Species List recently released by the International Institute for Species Exploration at Arizona State University to see their picks for the most intriguing new species.)

It's clear that there are untold numbers of unknown Earthlings out there (most seem to be located in the Amazon River basin), but what's also true is that we are living through what scientists have dubbed the "Sixth Extinction," a major extinction event, the scope of which has only happened five other times since life as we know it began some 4 billion years ago.

According to Worldwatch Institute, the current rate of species extinction is up to 1,000 times above normal, a frightening rate that the Earth hasn't experienced since the dinosaurs went extinct 65 million years ago.[1]

THE STATE OF THE WORLD

The institute has recently released the latest version of their annual flagship publication, State of the World, this year subtitled "Moving Toward Sustainable Prosperity." In it, the authors argue that it is critical to determine, understand and apply economic value to ecosystem health. The reports also highlights the importance of next month's United Nations Conference on Sustainable Development (UNCSD), aka Rio+20, and in particular, the important questions that the conference will address.

"Accurate valuation of ecosystem services is vital to create greater accountability and awareness of the ecological impact of our actions," said Erik Assadourian, Worldwatch senior fellow and State of the World 2012 project co-director. "By understanding ecosystem services in monetary or physical terms, leaders can assess and improve the sustainability of their policies."[2]

The Economics of Ecosystems and Biodiversity (TEEB) study calculated the global economic impact of biodiversity somewhere between $2-4.5 trillion annually, up to 7.5% of global GDP.[3]

BLAME MANKIND: THE FIVE PRESSURES OF THE SIXTH EXTINCTION

On average, 52 mammal, bird and amphibian species move one category closer to extinction every year, according to the International Union for Conservation of Nature (IUCN), which maintains the growing Red List of Endangered Species.[4] The categories are, in increasing intensity: Least Concern, Near Threatened, Vulnerable, Endangered, Critically Endangered, Extinct in the Wild and Extinct.[5]

And while there seems to be increasing public awareness of biodiversity loss—and the loss of the valuable ecosystem services that healthy biodiversity provides—Worldwatch says that the rate at which the world's species are moving toward extinction "shows no signs of slowing."[6]

"Although mass extinctions have occurred on Earth throughout geologic time, the current loss of biodiversity is the first to be caused overwhelmingly by a single species: humans," asserts Worldwatch. "The five principal pressures causing biodiversity loss are habitat change, overexploitation, pollution, invasive alien species, and climate change, all of which are almost exclusively human driven."[7]

POLITICIANS SAVING BIODIVERSITY? #FAIL

Governments have proven either unable or unwilling to save biodiversity. In 2002, the Convention on Biological Diversity (CBD), which was signed by world leaders at the United Nations Conference on Environment and Development (UNCED) in Rio de Janeiro in 1992, promised "to achieve by 2010 a significant reduction of the current rate of biodiversity loss at the global, regional and national level as a contribution to poverty alleviation and to the benefit of all life on Earth."[8] It failed. Miserably.

"Whatever presidents, parliaments, and parleys accomplish or do not accomplish, it is often social movements and citizen activists that spark the most momentous changes," writes Worldwatch Institute president Robert Engelman in his preface to the State of the World.[9] But what he neglected to mention was the private sector, and in particular, the potential of biodiversity funds.

THE RISE OF BIODIVERSITY INVESTMENTS

The rise of such funds in recent years has been helped by the drive to valuate the ecosystem services that biodiversity and healthy ecosystems provide—from carbon storage, clean drinking water and crop pollination to pest control, pharmaceuticals and bio-energy. The increased interest in placing a dollar amount on biodiversity has been due, in part, to the realization that people are generally more concerned with protecting something if it has some kind of economic value, not simply because it's the ethical or even smart thing to do. Perhaps it's a bleak view of humanity, but it's a view that has been embraced by organizations as varied as the World Bank and the World Wildlife Fund.

Funds like the Amazon Carbon and Biodiversity Investment Fund (ACIF), which creates investor value and solid IRRs (internal rates of return) by investing in sustainable forestry, ecosystem services and the United Nations REDD program in the Amazon[10], or the EcoEnterprises Fund II, which provides expansion capital to small sustainable businesses in Latin America and the Caribbean to preserve ecosystems, are becoming more attractive to socially responsible investors and impact investors, particularly as carbon, watershed and biodiversity credit markets stabilize and mature.

The recently launched Natural Capital Declaration, an agreement signed by the CEOs from 20 financial institutions to integrate natural capital criteria into financial products and services, also sends a strong message across the financial sector that healthy biodiversity and ecology can and must be supported by the world economy.

WE, THE PLANET-EATERS

"The current model of consumer societies is destroying the planet and its resources," said Bo Normander, Director of Worldwatch Institute Europe and a contributing author to State of the World 2012. "This must change in order for the planet to sustain future generations."[11]

To be sure, we are the planet-eaters. And even as we destroy the Earth and push other species into extinction, we multiply like never before—on target to reach a staggering human population of 9 billion by 2050. What the world will look like then depends largely on what we do now. And since we seem to value money more than we do biodiversity, realizing the economic worth of that biodiversity is key to our very survival.

###
NOTES
[1] Worldwatch Institute.
Rapid Biodiversity Loss Continues in Absence of Political Action and Accurate Assessments of Ecosystem Values
. May 22, 2012. Accessed May 22, 2012.
[2]
Ibid
.
[3] Jonathan Watts.
Are accountants the last hope for the world's ecosystems?
. The Guardian. October 28, 2010. Accessed May 24, 2012.
[4] ScienceDaily.com.
Third of Shark and Ray Species Are Threatened, Study Suggests
. October 26, 2010. Accessed May 24, 2012.
[5] International Union for Conservation of Nature.
Red List of Endangered Species
. Accessed May 24, 2012.
[6]
Ibid
., 1.
[7]
Ibid
.
[8] Convention on Biological Diversity.
2010 Biodiversity Target
. April 2002. Accessed May 24, 2012.
[9] Robert Engelman.
State of the World 2012 - Preface
. Accessed May 24, 2012.
[10] Nyenrode Business University.
Amazon Carbon and Biodiversity Investment Fund (ACIF)
. June 30, 2010. Accessed May 23, 2012.
[11]
Ibid
., 1.
RELATED
Saving Species, Saving Us: Biodiversity Investments Are Critical to Global Green Economy
Getting Ready for Its Rio+20 Debut: The Natural Capital Declaration
Slow Down, Planet-Eaters: UN Proposes Decoupling Economic Growth from Resource Consumption
The Color of Eco-Money: Ecosystem Services and the Value of Being Green
A Venture Capital Solution for Biodiversity Loss
image: Malayan tiger. The tiger is one of the most endangered animals in the world. There are less than 3,200 tigers left in the wild. (credit: B_cool from SIN, Singapore, Wikimedia Commons)