Ano is a Justmeans staff writer for health, and an instructional designer for the newly created Master of Health Care Delivery program (mhcds.dartmouth.edu) at Dartmouth College. Ano brings over a decade of evidenced-based health research and writing, and a Masters of Public Health from Dartmouth Medical School to the Justmeans Editorial section. Special interests include health policy, conflict ...
The DETECTB study: Mobile vans providing patient-centered public health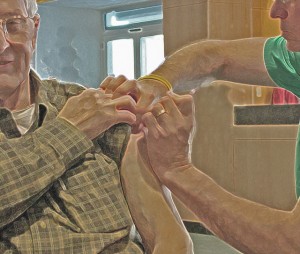 Research out of Harare Zimbabwe has shows the promise of an innovative approach to detecting un-diagnosed cases of tuberculosis (TB). TB is a particular public health concern in areas afflicted with high HIV rates, and concurrent infection is common. The Africa region accounts for 14 of the 15 nations with highest TB incidence on the planet, accounting for 79% of the estimated 1.4 million HIV patients infected with TB.

Unfortunately, in patients who are not HIV positive TB can linger with mild or no symptoms, even though they are contagious and potentially spreading the disease. Researchers at the London School of Hygiene and Tropical Medicine, funded by The Wellcome Trust, set out to see if they could improve detection of undiagnosed TB using an innovative, patient-centered approach. The result is the DETECTB study, written up in The Lancet online.

TB is typically diagnosed using chest x-rays or by culturing spit samples. Researchers used a van as a mobile sputum collection site, visiting randomly chosen neighborhood clusters. Over the three-year study period, residents with chronic coughs for two weeks or more were tested, and positive cultures received treatment. The van covered a population of 55,741 adults, tested 5466 people, and detected 225 cases. This resulted in an estimated 43% decline of undiagnosed TB in the community, from 6.5 to 3.7 per 1000.

Among the noteworthy aspects of this study:



Out-of-the-box thinking that brought a "clinic" to the population, instead of expecting the population to go to a clinic.


Taking a public health approach to disease management by attacking the disease early in its community transmission. HIV epidemics tend to promote aggressive TB control measures because of high rates of co-infection. In this case they were trying to reduce the reservoir of infection in low-risk groups that may infect higher risk individuals.


Getting mobile and into a community also offers the potential for other forms of outreach. As communities get accustomed to receiving services or information this way, it opens the door for future public health initiatives, or data gathering.


There are cases when care is best provided in the clinic, including some efforts at reducing
maternal-child mortality
. But dispersing care into communities has huge potential to reduce the burden of disease. What are some other examples of up-rooting brick-and-mortar based health services and bringing them to the population?
Partners in Health
has certainly been a champion of the Community Health Worker model. Tell us about some other examples you are aware of actively involved with.