Reynard Loki is a Justmeans staff writer for Sustainable Finance and Corporate Social Responsibility. A co-founder of MomenTech, a New York-based experimental production studio, he writes the blog 13.7 Billion Years and is a contributing author to "Biomes and Ecosystems," a comprehensive reference encyclopedia of the Earth's key biological and geographic classifications, published in 201...
The Everchanging Cost of the Sun: Solar Energy's Sustainable Finance Problem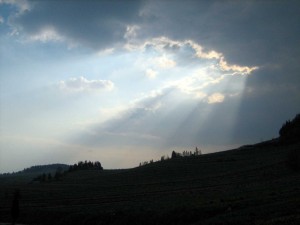 The sun produces enough energy in one second to fuel our current needs for 500,000 years. So why don't you have a solar system on your roof?

No toxic by-products. No pollution. No threats to the environment. Quiet production. Solar energy is one of the cleanest ways to produce energy. And it would take up just 0.3 percent of the world's land area to supply all of our energy needs.[1]

The sun is not only the world's most abundant source of energy by a long shot, it will be around long after humankind is gone. So why does the solar energy industry have such a hard time getting off the ground (and onto your roof)?

SO MUCH SUN, SO MANY CONS

In the United States, solar energy is a tiny fraction of the overall energy mix. During a panel discussion at Intersolar last year, Sungevity CEO Andrew Birch said that only around 130,000 American homes are outfitted with solar systems. That's a meager 0.2 percent of residences.[2]

One of the main cons for solar is the high initial cost of solar cells. High efficiency one can be upwards of $1,000. Outfitting a single-family home can set you back around $30,000. Another issue is that the solar energy can only be produced during the daytime, and then only on clear days. So storing solar energy is necessary, but storage options represent another big technological issue.

But costs for solar cells are coming down. And storage issues will eventually be solved, helped perhaps by the push to implement an energy storage act in the U.S.[3] More fundamental problems to achieving the full power of solar energy exist in how the industry is split and how the technology is sold across national borders.

POSSIBLE CHINESE TRADE VIOLATIONS

Solar manufacturers in the U.S. are being squeezed out by cheap solar modules made in China. The Department of Commerce has launched investigations into potential trade violations by the Chinese government in regard to possible unfair subsidies given to Chinese solar manufacturers.

On May 17, the department will issue its ruling on potential dumping (selling products below fair value) by Chinese firms, which could result in increases to tariffs already in place.[4]

"Blame the Chinese," writes Herman K. Trabish on Greentech Media, "but at least they are supporting their solar industry."[5]

THE RISE OF FREE SOLAR INSTALLATIONS

But while American solar manufacturers are feeling the heat (and not the kind the sun makes), solar installers are thriving. "Installers, often working through big-box chains like Home Depot or Lowe's, are taking advantage of hefty tax breaks, creative financing techniques and a glut of cheap, Chinese-made panels to make solar power accessible to the mass market for the first time," writes Diane Cardwell in the New York Times.[6]

She tells the story of a New Jersey resident who took advantage of a deal he found at Home Depot. The solar company Roof Diagnostics was offering free solar system installations. The catch? Sign a 20-year contract to buy the electricity that the roof panels generated. Oh, and you don't actually own those panels. Still, with rates often below those of local utilities, deals like this one are becoming more frequent—and hard to resist.

RENEWABLE ENERGY NEEDS A MARKET RETHINK

Why should the solar industry be split between manufacturers and installers? Why does the U.S. still subsidize fossil fuel so much more than renewable energy? Maybe the renewable energy industry should be liberated (even a little bit) from the shackles of market forces. After all, moving the world off of fossil fuel and onto renewable energy is part of solution for the survival of the human race.

With the world on track in just five years to reach what the International Energy Agency called "irreversible climate change" in their 2011 World Energy Outlook report[7], the trade differences between the U.S. and China seem not only petty, but ultimately illogical and even dangerous. The free markets can be manipulated, and both manufacturers and consumers can get raw deals. But in the end, what's at stake here?

Trade disputes should be over less mission-critical things than renewable energy. Fight over designer handbag knock-offs and widgets. But technology required to access energy from the sun? All the world's citizens will suffer from humanity's inability to move to a low carbon economy. To think that part of that inability is mired in WTO violations? It doesn't speak too well for a species that is as "advanced" as Homo sapiens supposedly is.

NOTE TO RIO+20: THINK ABOUT TESLA

Global warming doesn't pay attention to national borders. And neither does the sun. As the delegates prepare to arrive in Rio de Janeiro next month for Rio+20, the landmark United Nations Conference on Sustainable Development, they should think about these basic realities.

And they might also do well recall the concept of solar power—in the form of radiant energy—explored by the Serbian-American scientist Nicola Tesla over a century ago. His idea, which he worked on for many years, involved capturing solar energy stored in the air and then transmitting it wirelessly. The Wardenclyffe Tower, which he designed to demonstrate the wireless transmission of electricity, was built in New York, but was never finished due to...get this...financial problems.

It has been said that his initial backers (who included J.P. Morgan), stopped funding when they realized that they couldn't monetize Tesla's idea of giving away electricity for free. Unfortunately for all of us, he died before achieving his dream.

Tesla was the right person for the job: The so-called "Man Who Invented the 20th Century" designed the AC electrical system which we still use today. But it is his most enduring concept that is the one that needs to be revisited: Free energy for all. Not just free solar panels with a 20-year contract.

###
NOTES
[1] Energy Matters.
Wind and solar power statistics, facts and trivia.
October 29, 2011. Accessed May 11, 2012.
[2] Kanellos, Michael.
Stat of the Week: 0.2 Percent
Greentech Media. July 15, 2011. Accessed May 11, 2012.
[3] Trabish, Herman K.
The Energy Storage Market Quadruples in Five Years
. Greentech Media. February 16, 2012. Accessed May 11, 2012.
[4] Department of Commerce.
Commerce Preliminarily Finds Countervailable Subsidization of Crystalline Silicon Photovoltaic Cells, Whether or Not Assembled into Modules from the People's Republic of China
. March 20, 2012. Accessed May 11, 2012.
[5] Trabish, Herman K.
Solar Tariff Debate: Rule of Law or Open Competition?
. Greentech Media. May 2, 2012. Accessed May 11, 2012.
[6] Cardwell, Diane.
Solar Installers Offer Deals, Gaining Converts
. New York Times. May 9, 2012. Accessed May 11, 2012.
[7] International Energy Agency.
World Energy Outlook 2011
. November 2011. Accessed May 11, 2011.
image: (Bartosz Kosiorek, Wikimedia Commons)
1-2 KO 02pm May 18


$30,000 *120m housholds (Census 2010...not sure where your friend got 65m) means we can solarize the whole country for a cool $3.6 TRILLION ...