Tiffany has been a JustMeans Staff Writer since 2010. As an Ethical Consumption Writer, she reviewed eco-labels, products, and lifestyles. As a Sustainable Development Writer, she reviews global systems, international development, and system weaknesses. Tiffany has a background in sustainability, strategic planning, and education. Some people change when they see the light, others when they feel...
The Pivotal Reason for Egypt's Revolution is Not Social Media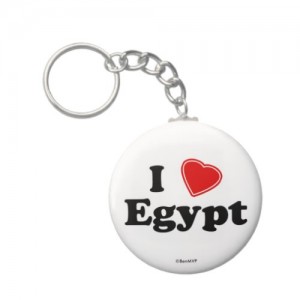 Social media appears to be claiming the success of Egypt's revolution, yet a look inside the Country from one of their own tells a different story. The Egyptian people believe it is based in the true love of one's country, something we tend to call Patriotism, that sparked this transformative journey. As technology debates human rights and touts its role, it is important to step back and reward the true heroes. For social media has nothing to report, if there are no people to report it, and if those people have nothing in their hearts to report. The true story is based in love, compassion, and a stubborn belief in a better future, thus creating a path toward true sustainable development in Egypt.



Social Media as a Tool

The revolution is being coined "The Facebook Revolution" and the revolution that social media wrought. Wrong. It is important to distinguish social media as a tool for communication and organizing, but not as the reason. In this media frenzy social media has overshadowed the truly impressive act of collaboration of human hearts. Attributing the revolution to social media degrades the incredible amount of integrity, patriotism, and symbolism of the relatively peaceful revolution started by the Country's youth. The Egyptians' work to maintain a peaceful AND powerful demonstration day-in and day-out is the true hero of this transformation. Although internet access and social media played important roles in the revolution, and it spurred important debates about human rights, it would be a disservice to attribute the incredible uprising to social media in place of the intention behind the acts.



True Patriotism

Patriotism isn't rooted in following the current paradigm. It is instead discovered and felt by those who are unafraid to analyze, question, and reconstruct their Country based on what will truly lend itself to a desirable future. What we didn't hear about in the media were heroes on the ground in Egypt. Since Egypt has been operating under emergency law for the last 30 years, when Mubarak gained power, any form of assembly is illegal and typically results in brutal punishment by the Egyptian Police. Yet through the tools of human connection and online organizing, a large group of individuals moved beyond fear and decided it was time to stage a peaceful protest.



The first day of protests reaped horrendous injuries from tear gas, rubber bullets, and unnecessary force by the Police. One hero used his truck to transport the injured to safety and return with water for the protesters. After the first day of brutality, the army was brought in with the hope that the people would cry for the Police's return. Since Mubarak's speech did little to address the concerns of the people, Saturday's demonstration grew enormously, despite the lack of Internet and phone messaging. Thousands of prisoners were released that day, leading to extensive looting, although a great deal of citizens believe the looting to have been done by members of the Police Force who had "disappeared" after the army took over. Communities helped one another patrol their neighborhoods and protect their homes that evening. The next few days were filled with demonstrations, as shown by the media, but they were also filled with moving clean-up efforts by the people of Egypt to reclaim their Country out of pride. One woman started cleaning up a dirty street and was then helped by a small girl who mimicked everything she did, as well as a gas station attendant who would run across the street to help her move the bags of trash every so often. This type of community felt through the human heart can be connected online, but it is these human experiences and linkages that should not be underplayed.



No Group is Too Small

This revolution proves that small groups can have great power, but their intentions must come from a meaningful source. Their perseverance despite extensive corruption and political games is an incredible tribute to the human heart. They loved their Country too much to just give it away, or to back down when corruption ensued, they stood tall and fought. The horrendous scenes from Tahrir Square depict the injustice they were up against. The protesters arrived without weapons, each of them was searched before being allowed to enter the area, as they stood in protest of the Mubarak Regime. Yet, Pro-Mubarak supporters arrived en-masse on camels armed with weapons and Molotov cocktails and then closed off all exit points. Rumors swirled that these individuals were paid for their attack, and that many of them were employed by the government's secret service. Regardless, the injustice and violence was atrocious.

The demonstrations continued with increased violence, as cars purposely swerved into protestors and conspiracy theories swirled, as the government continued to bide its time. Yet we all know how the rest of the story goes, with an unfinished ending when it comes to the government. The hope is that the same motivation of the human heart to overcome injustice and bring about a more fair and equal system will prevail, but there is no downplaying that Egypt has a long road ahead. Guided by this objective to create a more just and peaceful system, there is great reason to have hope.



These efforts are a powerful demonstration of what is possible when the power of love overcomes the love of power, peace.





A special thank you to the true heroes of the Egyptian revolution that were inspired by love and patriotism. Thank you also to Dina and her fellow Egyptians for sharing their stories.

Photo Credit


Tiffany Finley 11am February 23


Ano, I thoroughly agree. Some believe that since humans created technology, such as computers, phones, and their respective applications, th...