Reynard Loki is a Justmeans staff writer for Sustainable Finance and Corporate Social Responsibility. A co-founder of MomenTech, a New York-based experimental production studio, he writes the blog 13.7 Billion Years and is a contributing author to "Biomes and Ecosystems," a comprehensive reference encyclopedia of the Earth's key biological and geographic classifications, published in 201...
The XX Factor: Investing in Women Would Grow the Economy, But It's Still a Genie in Bottle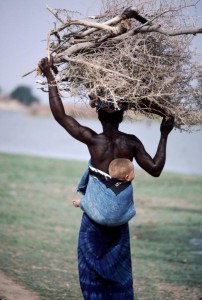 From the bottom of the pyramid to the top of the corporate ladder, the message is clear: Investing in women is smart economics

On March 8, I attended a conference at the United Nations entitled "The Role of Business in Empowering Women," one of the many events that were part of International Women's Day. I was invited by the US Chamber of Commerce Business Civic Leadership Center to interview one of the featured speakers, Lauren Bush, the co-founder of FEED Projects, a social enterprise that has provided millions of school lunches to hungry kids around the world. [You can read that interview here.]

As I walked into the massive, high-ceilinged conference room, bustling with over 300 attendees from around the world, I recalled the questions that Christine Jacobs, a senior consultant at Core Risks Limited, asked almost a year ago on Forbes.com: "Who would have thought that in the year 2011, there would still only be 15 women CEOs in the Fortune 500? Who would have thought that only 15% of American corporate board positions would be held by women? Who would have thought that only 17% of the US Congress would be women?" Jacobs, who also blogs at leading-women.com, had succinctly expressed the growing sense of frustration in the glacial closing of the gender divide.[1]

ROSIE SAYS, "WE CAN DO IT!"

But the conference was decidedly upbeat, less exasperation and more the kind of postivism that would have made Rosie the Riveter proud. On the day's agenda, among other things, were financial inclusion, entrepreneurship, business partnerships with the United Nations Entity for Gender Equality and the Empowerment of Women (UN Women) and the role that Fortune 500 companies have in creating opportunities for women to participate in commerce through inclusive and transparent supply chains.

International Women's Day was a celebration, of course, but there was much work to be done, connections to be made, wagons to be circled. As Jacobs duly noted, "Now we must talk about women's equality as unfinished business."

In her keynote remarks, UN Women Deputy Executive Director Lakshmi Puri offered a balanced view. "During the past century, we have witnessed a transformation in women's legal rights, educational achievements, and participation in public life," she said. "More women are exercising leadership in politics and business, more girls are going to school, and more women survive childbirth and can plan their families."

"Yet while tremendous progress has been made, no country can claim to be entirely free from gender-based discrimination. This inequality can be seen in persistent gender wage gaps and unequal opportunities, in low representation of women in leadership positions, in child marriage, and in continuing violence against women in all its forms."[2]

MULTIPLIER EFFECT + GROWTH PREMIUM = SMART ECONOMICS

A major part of the overall solution is bridging the economic divide that runs along gender lines, particularly because of the positive spillover that financial inclusion creates. There's a multiplier effect when investments are made in women that happens more often than when similar investments are made in men: When women experience economic growth, their families and communities most often come along for the ride. In fact, if society removed the various barriers to economic participation that women regularly experience—lack of access to jobs, education, markets, property and credit, for example—all nations, even OECD nations, would experience a rise in GDP.

"In the BRICs and N-11 countries, greater investments in female education could yield a 'growth premium' that raises trend GDP growth by about 0.2% per year," according to Sandra Lawson, senior global economist at Goldman Sachs' Global Markets Institute. "Narrowing the gender gap in employment—which is one potential consequence of expanded female education—could push income per capita as much as 14% higher than our baseline projections by 2020, and as much as 20% higher by 2030."[3] No wonder that the World Bank called investing in women "smart economics."[4]

FROM THE BOTTOM OF THE PYRAMID TO THE TOP OF CORPORATE LADDER

According to the 2011 Chicago Council report "Girls Grow: A Vital Force in Rural Economies," educating girls has a better ROI than educating boys, with estimated returns to female secondary education in the 15 to 25 percent range, a higher rate of return than their XY-chromosomal counterparts.[5]

At the other end of the spectrum, the increased participation of women at the top of the corporate ladder is also better for business. Jacobs pointed out the data published by Catalyst "showing how companies with solid representation by women on corporate boards (defined as three or more women) have cleaner audits, stronger discourse and better financial performance than those run exclusively by men."[6]

BAN KI-MOON: REMOVE ECONOMIC BARRIERS TO WOMEN

Two days before International Women's Day, some 200 business leaders, governmental officials and civil society representatives also gathered at the UN to mark the second anniversary of "Equality Means Business," an initiative of UN Women and the UN Global Compact that has established a women's empowerment roadmap. At the event, UN Secretary-General Ban Ki-moon called for increased efforts to remove the barriers that prevent women from full economic engagement. "The meaningful participation of women in business—from the inclusion of women-owned businesses in supply chains, to having significant representation of women on corporate boards—also translates into stronger performance," he said.[7]

In his 1966 hit song, James Brown sang "It's a Man's Man's Man's World." And though gains towards gender equality have certainly been made, that sentiment still rings true almost half a century later. Even in the United States, it's sometimes surprising to remember that a woman's right to vote is a relatively recent development. The arduous journey of the 19th Amendment, which prohibits any American citizen from being denied the right to vote based on their gender, is a stark reminder that gains have been long and hard in coming: Mississippi didn't even ratify it until 1984.

Rosie the Riveter was right, women can do it. And it's become quite clear that when they do, society as a whole benefits. Jacobs is right too. We need to finish the important job that was started so long ago. But to make that happen, those in power—the vast majority of whom happen to have the Y chromosome—need to realize the socioeconomic value that is created when women are able to participate in the economy. Until then, the full power of the "XX factor" remains, for the most part, a genie trapped in a bottle. For now, what's not trapped is a growing chorus of voices who recognize what James Brown described almost 50 years ago: "This is a man's world, but it wouldn't be nothing without a woman or a girl."

###
NOTES
[1] Jacobs, Christine. "
Working Hard Was Supposed To Lead To Equity. It Hasn't.
" Forbes.com. April 15, 2011. Accessed March 17, 2012.
[2] Puri, Lakshmi. "
A Call to Action to Partner with UN Women
. UN Women. March 8, 2012. Accessed March 17, 2012.
[3] Lawson, Sandra.
Global Economics Paper No: 164
. "Women Hold Up Half the Sky." Goldman Sachs. March 4, 2008. Accessed March 17, 2012.
[4] World Bank.
World Development Report 2012: Gender Equality and Development
. September 18, 2011. Accessed March 14, 2012.
[5] Chicago Council.
Girls Grow: A Vital Force in Rural Economies
. October 7, 2011. Accessed March 14, 2012.
[6]
Ibid
,. 1.
[7] Ban, Ki-moon. "
Ban calls for greater efforts to remove barriers to women's economic empowerment
." United Nations News Centre. March 6, 2012. Accessed March 14, 2012.
image: Woman carrying firewood in Segou. Disadvantaged women world-wide are locked into a lifestyle of exploitation. The Voluntary Fund for the United Nations Decade for Women, established in 1975, is trying to improve their lot through projects implemented on a village level. One such project is the introduction of a smoke-free, fuel-efficient wood stove for cooking. While reducing the time consuming task of wood gathering, it limits at the same time the severe environmental impact traditional cooking methods, where almost 90 per cent of the heat is lost, have had on the drought-stricken area. January 1, 1983. Segou, Mali. UN Photo/Kay Muldoon.
unreal casandra 11am March 19


I believe we are entering a new era. The Earth is calling out for the Woman to be reborn. But in a new way, in a way that will carry all her...