Corporate Social Responsibility writer for Justmeans, Antonio Pasolini is a journalist based in Brazil who writes about alternative energy, green living and sustainability. He also edits Energyrefuge.com, a top web destination for news and comment on renewable energy and Elpis.org, a recycled paper bag/magazine distributed from health food stores in London, formerly his hometown for over a decade....
Amazon Dam Goes Ahead Despite Opposition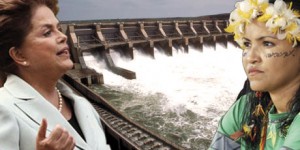 An Avatar-style battle is being fought out over the future of the Amazon region in Brazil and the prospect of turning the region into a hydropower hub. At the center of the battle is Belo Monte, a dam project to be built in the heart of the Amazon, which environmentalists and tribal populations have called an environmental and human disaster.

A new chapter of the battle started this week when the new government headed by President Dilma issued a partial licence to allow Belo Monte Dam Complex to break ground on the margins of the Amazon's Xingu River.

The license was approved by Brazil's Environmental Agency Ibama, whose former chief, Abelardo Bayma, resigned two weeks due to the pressure to approve the project. The license was condemned by the Federal Public Prosecutor's Office.

According to Amazon Watch, a partial license does not exist under Brazilian environmental legislation. The one issued will allow NESA, the energy consortium behind the Belo Monte dam project, to open access roads and initiate forest clearing at dam construction site in an area of 2,118 acres.

"The partial installation license granted by IBAMA is intended to transform Belo Monte, a notoriously illegal and catastrophic dam project and a huge waste of taxpayers' money, into a fait accompli," said Christian Poirier, Brazil Program Coordinator at Amazon Watch.


Impact

The $17 billion Belo Monte Dam Complex, the third largest dam in the world, will divert nearly the entire flow of the Xingu River along a 62-mile stretch. Its reservoirs will flood more than 100,000 acres of rainforest and local settlements, displace more than 40,000 people and generate vast quantities of methane, a greenhouse gas at least 25 times more potent than carbon dioxide.

According to Public Prosecutor Ubiratan Cazetta, "IBAMA is putting the region at a high social and environmental risk by granting a license allowing installation of the construction site while not requiring compliance with legally-mandated safeguards". Mr. Cazetta also expressed concern over the fate of migrant workers, since no preparations have been made to absorb them.

The consortium also benefited from a subsidized $640 million start-up loan from the Brazilian National Development Bank (BNDES) for equipment purchases before a partial installation license was issued, countering legal procedures, says International Rivers, who says the approval is based on political grounds only.

Local populations, who have received support from international stars such as Avatar director James Cameron and film actress Sigourney Weaver, say the installation license is a signing of the government's "deepening authoritarianism".


Hydropower

Brazil's energy matrix is largely based on hydropower, which provides 80% of the country's energy. During a press conference with international journalists last July in Brasília, Isabella Teixeira, Brazil's environment minister, said the Amazon accounts for 66% of the untapped potential of hydropower in Brazil.

On the occasion, Márcio Zimmerman, who was President Lula's Energy minister, defended the construction of Belo Monte. "We have carried out careful environmental assessment studies in the region. Besides, we have one of the strictest legislation to implement hydropower", he said at the time.

Image credit: Avaaz
Rafaella Cavalcanti 08pm February 04


will not have cattle ranching in the area, even by Brazilians or by Mc donald's