Reynard Loki is a Justmeans staff writer for Sustainable Finance and Corporate Social Responsibility. A co-founder of MomenTech, a New York-based experimental production studio, he writes the blog 13.7 Billion Years and is a contributing author to "Biomes and Ecosystems," a comprehensive reference encyclopedia of the Earth's key biological and geographic classifications, published in 201...
An Affair with the Wind of the Highlands: Scotland's Transition to a Low Carbon Economy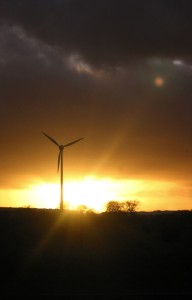 "Across Scotland we have the opportunity to deliver 130,000 jobs in the low carbon economy by 2020." -- Alex Salmond, First Minister of Scotland[1]

In her poem "Eley's Bullet," the Scottish poet Carol Ann Duffy, Great Britain's current poet laureate, wrote, "Outside the wind knew something was on and nudged at the clouds," referring to the machinations of an ill-fated love affair. Indeed, Scotland is one of the windiest places in all of Europe, with sustained winds blowing across the Highlands at a high clip. Unsurprisingly, the country has been enjoying its own love affair with wind power, with over 2,700 MW of installed capacity as of July. But this particular love affair doesn't look ill-fated at all: It is the Scotland's fastest growing renewable energy.

REINDUSTRIALIZATION THROUGH RENEWABLES

Scotland is not a big country. It's smaller than South Carolina. Yet it has been blessd by a wealth of natural resources. It is the largest producer of petroleum in the EU. But recently, the focus has been on its potential in renewable energy. Scotland has 25 percent of Europe's wind and tidal resource, 10 percent of its wave power capacity and the largest offshore storage capacity for carbon emissions in the European Union.[3]

And if Alex Salmond, Scotland's First Minister and the leader of the Scottish National Party (SNP), has his way, those impressive numbers will be turned into some other impressive numbers in terms of jobs and investments.

In March, Salmond called on Scotland to be "a world leader in the next generation of renewable energy" by taking advantage of its wealth of renewable energy and attracting investment through a transition to a low carbon economy. "Not only is it clean and safe," said Salmond in his response to the UK budget, "it will re-industrialise Scotland."[4]

LOW CARBON ECONOMY: A STRATEGIC PRIORITY

The first minister's vision is on target to becoming a reality. Last month, Scotland released its Government Economic Strategy (GES), which identifies the transition to a low carbon economy as a "strategic priority" to the country's economic growth. "Faster sustainable economic growth is the key to unlocking Scotland's potential," writes Salmond in the document's foreword.

"Scotland has a massive competitive advantage with the natural resources, and academic and engineering expertise to become a world leader in low-carbon activities," he writes, adding that "this sector, above all others, will provide a focus for new private sector capital investment in Scotland."[5] The GES institutes a National Renewables Infrastructure Fund of GBP 70 million (USD 109 million), meant to leverage investment from the private sector to build the infrastructure necessary to support the development offshore renewables.

CALLING ON UNIONS: INVEST IN GREEN JOBS

The release of the GES coincided with a speech by Brendan Barber, leader of the Trades Union Congress (TUC), the UK federation of trade unions representing some 6.5 million members, in which he urged a "shift the terms of the debate" away from reduction of the deficit, currently at GBP 12 billion (USD 18.6 billion)[6], to a new economy focused on green job creation.

"You can't cut the deficit by depressing the economy," said Barber. "It's only through jobs and growth that we can heal the public finances...Let's exploit new technologies in the fight against climate change and forge a new future for manufacturing." He also called for "real reform of our financial system, turning the banks from casinos that enrich themselves into utilities that serve us."[7]

FOR A SUSTAINABLE FUTURE, LOOK TO THE PAST

"History shows us that the best way to get out of recession is to invest," said Salmond in his UK budget response in March.

"After World War Two, one of my predecessors had a vision. Tom Johnston, Secretary of State for Scotland and passionate Home Ruler brought power to the glens by investing in hydro schemes. It transformed the Highlands and established Scotland as a leader in green energy before anyone even coined the term. And of course these hydro schemes provided thousands of jobs."[8] After all, the wind isn't the only force of nature that knows something is on.

###
NOTES
[1]
http://www2.snp.org/renewables_can_re_industrialise_scotland
[2]
http://www.scottishrenewables.com/
[3]
http://www.scotland.gov.uk/Resource/Doc/357703/0120861.pdf
[4]
Ibid
., 1.
[5]
Ibid
., 2.
[6]
http://www.dailymail.co.uk/news/article-2039194/UK-economy--12bn-hole-deficit-sums-trigger-tax-rises-deeper-cuts.html
[7]
http://www.politics.co.uk/comment-analysis/2011/09/12/brendan-barber-s-tuc-congress-speech-in-full
[8]
Ibid
., 1.
image: East Mains, Glasgow, Scotland (credit: Duncan McNeil, Flickr Creative Commons)