Harry Stevens is a freelance reporter covering climate change, corporate social responsibility, social enterprise, and sustainable finance. Harry has contributed to several media outlets, including Justmeans, GreenBiz, SocialEarth, and Sustainablog. You can follow Harry on Twitter: @Harry_Stevens...
As Senate Considers Relief Package, CVS Steps Up Aid to Sandy Victims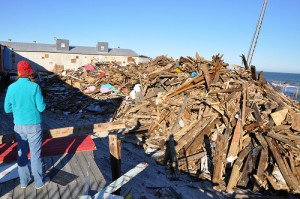 Many residents on the New Jersey coast, which was devastated by Hurricane Sandy in October, say they have not yet recovered.
As the U.S. Senate prepares to vote on a $50.5 billion relief package for victims of Hurricane Sandy, CVS Caremark Corporation (NYSE:CVS) has announced a donation of $50,000 to the Hurricane Sandy New Jersey Relief Fund. The donation was made through the CVS Caremark Charitable Trust, a private foundation created by CVS Caremark.
While the hurricane garnered front-page headlines for several days after it devastated the Eastern seaboard last October, media coverage of the storm's lingering effects has been decidedly less robust. But an overwhelming majority of New Jersey residents say they have yet to recover from Hurricane Sandy, according to
a recent Patch.com poll
.
Stories of suffering and loss continue to trickle in three months after the storm hit. A reported 3,500 New York and New Jersey families displaced by the storm are
still living in area hotels and motels
. Other families have been
forced to endure freezing temperatures
in ad-hoc tent cities and unrepaired homes that lack heating and ventilation.
The storm cost more money than any other natural disaster in 2012, according to London-based reinsurance firm Aon Benfield, with a total bill of around $65 billion. And while the federal government has been slow to authorize meaningful aid to the recovery effort, many corporations have been eager to contribute funds.
Immediately after the storm hit, CVS/pharmacy, the retail division of CVS Caremark, kept its stores open for as long as possible and stocked them with storm preparedness items like batteries, flashlights and water. The company also deployed generators throughout affected markets and quickly began gathering finances to help with the aid effort.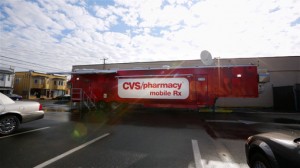 CVS/pharmacy mobile pharmacy deployed to Margate, N.J. to help those affected by Hurricane Sandy.
The CVS Caremark Charitable Trust has already donated to a number of charities involved with relief efforts, including the Red Cross, Rebuild Hoboken Relief Fund and Jewish Family Services of Atlantic County. The latest donation to the Hurricane Sandy New Jersey Relief Fund confirms the company's commitment to helping storm victims long after most of the nation has moved on.
"Since Hurricane Sandy brought its devastation to New Jersey almost three months ago, we have been working tirelessly to rebuild our local communities and make them stronger than ever before," said New Jersey First Lady Mary Pat Christie, who established and serves as chair to the Hurricane Sandy New Jersey Relief Fund.
"The generous support we are receiving from the CVS Caremark Charitable Trust will help us fund much-needed programs that will help the people of our state get back on their feet and restore hope in our communities," she added.
The Fund's priority is to work with community-based non-profit organizations to ensure funds address needs not met by the Federal Emergency Management Agency, insurance and immediate disaster response organizations. The Fund covers a wide range of needs, providing financial counseling and assistance for those who have lost homes and jobs as well as supporting health care-related initiatives.
"As a pharmacy health care provider, we are committed to providing assistance where it's needed most and support the mission of the Hurricane Sandy New Jersey Relief Fund to provide support to programs that address the unmet needs of communities throughout New Jersey," said the President of the CVS Caremark Charitable Trust, Eileen Howard Boone.
The donation to the Hurricane Sandy New Jersey Relief Fund brought CVS Caremark's total Sandy-related philanthropic contributions to more than $200,000.
Image credit: b0jangles, Flickr