Corporate Social Responsibility writer for Justmeans, Antonio Pasolini is a journalist based in Brazil who writes about alternative energy, green living and sustainability. He also edits Energyrefuge.com, a top web destination for news and comment on renewable energy and Elpis.org, a recycled paper bag/magazine distributed from health food stores in London, formerly his hometown for over a decade....
BMW and Guggenheim Launch Six-Year Sustainability Project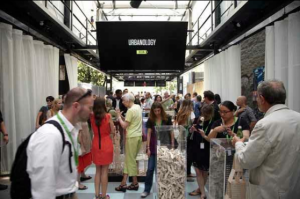 A new initiative by German automaker BMW and the Guggenheim Foundation kicked off today in New York City. The BMW Guggenheim Lab, described as a mobile laboratory, will travel to nine major cities worldwide over six years.

The project is a multidisciplinary affair involving urbanism, architecture, art, design, science, technology, education, alternative energy, and sustainability. The overall goal is to tackle issues of contemporary urban life through programs and public discourse, explore new ideas, experiment, and create forward-thinking solutions for urban life.

"The idea is that you take a range of people from wildly different disciplines, throw them together and see if they can come up with new ideas for the problems with the city" said Charles Montgomery, a journalist and urban experimentalist who is part of the project in New York.

The project will span six years and will be divided into three different cycles of two years each. For each cycle there will be three distinct mobile structures and themes and each one will travel to three cities around the globe.

Cycle 1 will conclude with an exhibition presented at the Solomon R. Guggenheim Museum in New York in 2013. The other two cycles will follow with a new mobile structure and theme, concluding in the fall of 2016.

The theme of the first two-year cycle of the BMW Guggenheim Lab is Confronting Comfort. This cycle will explore notions of individual and collective comfort and the urgent need for environmental and social responsibility.

Today's launch goes on until October 16, before moving on to Berlin and Mumbai. The Berlin presentation will be organized in collaboration with ANCB Metropolitan Laboratory, and the Mumbai presentation will be organized in collaboration with the Dr. Bhau Daji Lad Museum

More than 100 programs will address the theme for the BMW Guggenheim Lab's first cycle. These include Urbanology, a large-scale interactive group game that can be played both on-site and online, as well as workshops, experiments, discussions, screenings, and off-site tours. All programs are free and open to the public on a first-come, first-serve basis.

People who live in cities not covered by the project can engage in the discussion through the Lab website and blog . They can also follow the Lab on Twitter and join the conversation using the hashtag #BGLab.

The inaugural Lab is located at First Park, Houston at 2nd Avenue, a New York City Parks property. Entry is free. Open from Wednesdays to Sundays, from August 3 through October 16.

Image credit: Lab blog
Stephen Chytil 03am August 04


I like the idea of challenging something as basic to the individual as comfort. Comfort can mean so many different things to different peopl...