Harry Stevens is a freelance reporter covering climate change, corporate social responsibility, social enterprise, and sustainable finance. Harry has contributed to several media outlets, including Justmeans, GreenBiz, SocialEarth, and Sustainablog. You can follow Harry on Twitter: @Harry_Stevens...
Business Leaders Urge President Obama to Oppose Keystone XL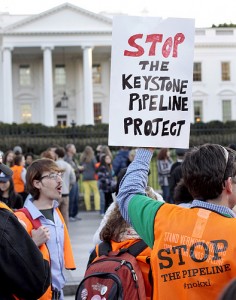 In an open letter to President Barack Obama, the American Sustainable Business Council and several leading U.S. companies have urged the president to oppose the construction of the Keystone XL Pipeline.

The business leaders say that the 1,700-mile pipeline, which would transport heavy crude oil from the Candian tar sands to the Texas Gulf Coast, "would have negative economic, environmental, health, and security consequences for our nation."

The letter argues that the full cost of the pipeline, which would include the damage from spills, land despoliation, water clean-up, medical costs, carbon emissions and other factors, would far outweigh the benefits of the pipeline.

The signatories argue further that the opportunity cost of investment in the pipeline would include diverting funds from the burgeoning renewable energy industry, which the business leaders say would create jobs, provide energy for domestic use, and increase U.S. competitiveness.

"Contrary to what fossil fuel-led industry groups say, the pipeline makes no business sense," said David Levine, Co-founder and CEO of the American Sustainable Business Council. "It's not economically viable without government support and imposes substantial costs on the economy by producing dirty, expensive oil and increasing emissions linked to climate change."

While TransCandada, the company that seeks to build Keystone XL, has said that the pipeline would inject more than $20 billion into the U.S. economy and create 20,000 jobs, a study from the Cornell University Global Labor Institute found that these numbers were grossly overstated.

That study estimated that the pipeline would create between 2,500 and 4,650 temporary jobs, while other factors like reduced employment at Midwestern refineries and increased gas prices would actually eliminate permanent American jobs.

"We need to invest in clean energy, providing opportunities for an innovative 21st century," added Levine. The signatories of the letter urged President Obama to favor the development of clean energy technologies like wind and solar over the environmentally destructive pipeline.

Julie Gorte of Pax World Management, an investment management company, echoed Levine's sentiment. "Investment in renewable energy has a more lasting positive impact on employment," she said and won't carry the same risk of catastrophic impacts on climate change."

The Keystone XL pipeline was pushed into the national consciousness last weekend when more than 40,000 demonstrators gathered at the foot of the Washington Memorial to protest the pipeline. In the wake of the demonstration, Sens. Barbara Boxer (D-Calif) and Bernie Sanders (I-Vt.) introduced legislation that would impose fees on carbon emissions from coal and petroleum.

But the outcome of the rally was far from unambiguous. Shortly after the demonstration, it was revealed that President Obama played golf with oil executives at an exclusive course in Florida at the very same time as protesters gathered in Washington to oppose the pipeline. And Jack Gerard, CEO of the American Petroleum Institute has said that the Boxer/Sanders bill will never reach the Senate floor.

Still, the leaders who signed the letter included members of leading U.S. businesses, including Ben & Jerry's and Seventh Generation.

"The time has come for U.S. business leadership on climate change," said Chris Miller of Ben & Jerry's. "Climate change places our supply chains at risk, and threatens the very social and economic way of life for those who can least afford to adapt."

Miller recently left a position as director of sustainability at Seventh Generation to manage Ben & Jerry's corporate responsibility programs. His former colleague at Seventh Generation, Ashely Orgain, also expressed her company's opposition to Keystone XL.

"Seventh Generation takes great care to protect the planet for future generations," she said. "We proudly stand alongside others calling for bold U.S. leadership away from fossil fuel energy and projects like the Keystone pipeline."

Image credit: tarsandsaction, Flickr
magdaline 01pm March 07


GREETING, magdaline_buba@yahoo.com Hello my dear friend i am Miss magdaline, how are you?please my dear i know you may be surprise,i want ...