Akhila is a Justmeans staff writer for CSR and ethical consumption. As an IEMA certified CSR practitioner, she hopes to highlight a new way of doing business. She believes that consumers have the immense power to change 'business as usual' through their choices. She is a Graduate in Molecular Biology from the University of Glasgow, UK and in Environmental Management and Law. In her free-time she i...
CSR Efforts: The slow greening of Wal-Mart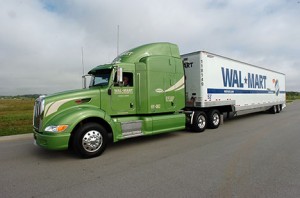 It is rapidly getting very difficult to accuse one of the biggest retailers of not being sustainable. Over the past decade Wal-Mart has completely changed its image from a slimy, unethical wheeler-dealer to one that is serious about its CSR activities. Wal-Mart's CSR initiatives is pushing the chain into new light, as it propels itself into a new way of doing business.
The greening of Wal-Mart started around 2006 under CEO Lee Scott, who announced that he would change the way business is done. He said at that time that he understood the impact it would created if the world's largest retailer changed the way it does business. Since then he has improved the energy efficiency of trucks, stores and reduced wastes pretty much across the board. Wal-Mart also started working with suppliers to make greener electrical products and to only sell Energy Star air-conditioners by 2010.
Starting in 2008, as part of their unique CSR plan, Wal-Mart started evaluating electronics on energy efficiency, durability, upgradability, end-of- life solutions, and the size of the package containing the product. Products will also be evaluated on their ability to use innovative materials that reduce the amount of hazardous substances, such as lead and cadmium, contained in the product. This kind of sustainability index will measure the environmental impact of every single product it sources from its 60,000+ suppliers. It means that every product will undergo a series of supply chain analysis, life cycle assessments and production evaluations to deem it suitable to be retailed in Wal-Mart.
On the emissions front, Wal-Mart has announced that they will eliminate 20 million metric tons of GHG emissions from its global supply chain by the end of 2015. It is an ambitious step considering that they are located in 70 different countries and have suppliers around the world. Wal-Mart has also gone the extra step in making sure items that do end up in landfills do not contain harmful chemicals such as PVC, pesticides, BPA plastics and cleaning toxins.
Their most recently CSR effort has been to source local food by supporting small and medium sized farmers. By 2016, they want to sell $1 billion worth of food from 1 million small and medium farmers. They also want to increase the income of these farmers by 10-15% by direct sourcing. They also want to work with these farmers to reduce food and agriculture waste by 10-15%.
The new CSR will focus on continuing to source palm oil only from RSPO-certified sources. They are also making efforts to ensure that all Brazilian beef they source will not contribute towards deforestation in the Amazon. They will also continue to improve their lines of organic food and sustainably sourced sea-food. They are also one of the major retailers to reject GMO and are the biggest buyers of organic cotton.
Skeptics argue that the size of the chain makes energy efficiency difficult to monitor. They also argue that the baseline for monitoring proposed changes remains unclear. However, the point remains that when a larger retailer starts setting ethical standards, the smaller supplier will have to comply to keep their custom. This is something that Wal-Mart has definitely changed and for this reason we cannot completely reject its sustainability initiatives.
Photo: Wal-Mart's hybrid trucks that run on reclaimed cooking grease and LNG. Source: Treehugger.
Michel Kiflen 04pm October 09


There are some spelling errors in this article. You forgot to press the space bar key a couple of times.