Canadian Companies Share Why Being a Green Employer Helps the Bottom Line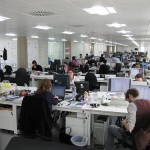 By: Meirav Even-Har, Toronto

Every month a Toronto Greenhouse event brings together sustainability professionals to explore different topics through panel presentation and dialogue. Attending the Green Employer Forum provided me with some insight into the reasons and ways in which companies integrate environment and social responsibility into their operations.

Sharing their thoughts and real world experience were Cisco Canada, Aon/Hewitt and Dillion Consulting. The following are highlights from the evening:

On whether there is a "green collar" job...

Everyone on panel agreed that although there has been a shift and sustainability is increasingly part and parcel of the "way of doing business," there isn't a separate "green" workforce. Rather, it is "how you do the job, [not] what the job is," a panelist noted. In other words, any job can be green, and it is especially important on how it is viewed by the employee. For example, a person working as a community/sustainability liaison for an extractives company may view himself or herself as a "green" employee, even though the company itself may not be labeled as such.

Recruiting and Retention - the Millennial Generation

For firms such as Cisco and Dillion there is a very focused stream of professionals that they aim to attract and retain. Both companies have strong relationships with universities by offering scholarships, for example, that enable a connection with prospective employees while still in school.

The biggest driver for integrating CSR into the workplace is employee retention. Aside from implementing community and sustainability initiatives that help engage employees, training and education were cited, along with flexible workspace. It is important to note that while there are five generations in the current workforce, the Millennials, overall, have a different set of expectations from previous Generation X and Baby Boomers. Employers face the challenge of keeping a largely varied workforce happy, while recognizing the growing momentum of CSR and how a response to it differs by age group.

Integrating sustainability by rethinking the workplace and space

Panelists observed that environmental consciousness or thinking is now a part of what new recruits bring to the job. Instead of having an internal environmental position, or track, sustainability is integrated into day-to-day work. Clients are also drivers of change within a company. Employees must be able to offer what customers want - an environmentally responsible service and know how, regardless of the industry.

Interestingly, integrating sustainability into the workplace has worked hand-in-hand with engaging employees and offering a more attractive workplace. "Work-life blending" was coined to describe flexible work hours and space. Employees are evaluated by work delivered not hours in the office.

Aiming for best employer company

To achieve a positive shift within a company, panelists recommended the following:



Engagement has to start from the top. While CSR can incubate at the bottom, leadership is imperative and the company has to believe in engagement. Then it all comes together.


Need to have a vision for CSR in order to inspire middle management to think differently about how they do business.


Investment in CSR as a strategy can help increase employee engagement.


There needs to be a level of transparency and awareness throughout the company.


Link CSR to creating value for customers and help employees think "outside the box", thereby driving innovation, as well as a platform for better environmental and social performance.


Photo Credit: New Office (by Phillie Casablanca)