As a Justmeans staff writer for the Sustainable Foods editorial department, I explore the disparity between consumerism and independence through the topic of sustainability. As a self-described 'urban homesteader' I look to find the balance between a sustainable lifestyle and use of corporate convenience. I don't necessarily want to live without electricity, but I want to be comfortable if eve...
Equal Exchange: Fair Trade Is A Movement, Not A Brand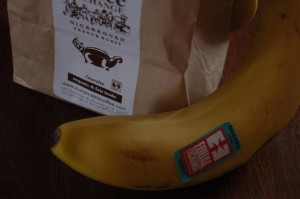 (Rodney North, The Answer Man, employee-owner, & former Board Vice-Chair at Equal Exchange will be speaking at the Certification, Consumption, and Change Conference, on April 5th at the National Press Club in Washington, DC. To find out more about the conference, go to: http://www.justmeans.com/pages/Washington-DC)

If I had three apples and you had three oranges, and we both equally enjoy both fruits, would my offering you one apple for all of your oranges be a fair trade? We have to think about things in this simplified manner to understand how our actions reverberate throughout the world.

So when I went to the grocery a couple weeks ago and ran across organic bananas from Peru with an Equal Exchange sticker, I didn't even bother looking at the price: I was just excited to have a banana. Later, when I checked my receipt, they were only 10¢ more than "conventional" bananas per pound.

How amazing is that?

For things that do not grow locally, it is especially important to buy fair trade: coffee, chocolate, bananas, to name a few. The Equal Exchange / Fair Trade label is one way to help guide a decision on what you're supporting, and it doesn't cost that much more.

Consider fair trade coffee. At the roaster where I purchase my beans, it costs about $3 more per pound than "conventional" coffee at a box grocer. Most people will spend more than that on a cup of coffee every single day. Let's just put it in perspective: One pound lasts our house about two weeks. Per person, 75¢ per week buys me the assurance that at least some coffee farmers are getting fair pay for their craftsmanship in organic agriculture.

For those of you without a local roaster participating in a fair trade / organic coffee system, Equal Exchange sells coffee, tea and other items online. To further my earlier point, Equal Exchange coffee runs somewhere between $12 - $13 /lb., and even cheaper in bulk, literally rivaling box store prices.

Equal Exchange is a 100 person, $40 million, for-profit worker co-operative founded in 1986. It is the largest U.S. enterprise committed exclusively to Fair Trade, and one of the oldest. Equal Exchange imports and distributes Fair Trade, organic coffee, tea, chocolate, bananas and healthy snacks sourced from US farmers.

Photo credit: Keri Marion
Equal Exchange 03pm February 21


When you find our bananas bagged (and maybe any bananas) that reflects a choice by the retailer, not us. It's a pricing / check-out issue. S...