Reynard Loki is a Justmeans staff writer for Sustainable Finance and Corporate Social Responsibility. A co-founder of MomenTech, a New York-based experimental production studio, he writes the blog 13.7 Billion Years and is a contributing author to "Biomes and Ecosystems," a comprehensive reference encyclopedia of the Earth's key biological and geographic classifications, published in 201...
Factories, Families and Finance: Closing the Economic Gender Gap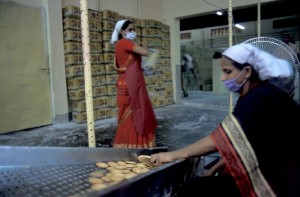 The new education initiative HERfinance targets female factory workers across global supply chains to increase financial inclusion

In just three years, over 2,000 female factory workers in Bangladesh, China, Egypt, India, Kenya, Pakistan and Vietnam were trained as peer health educators. In addition, health surveys were filled out by 7,000 of them. This progress was the result of HERproject, a women's health education initiative launched in 2007 by BSR, a global network of nearly 300 companies working to develop, promote and implement sustainable business strategies through research-based cross-sector collaboration.

Now, buoyed by the success of HERproject—which not only increased women's health awareness, but also women's access to health services—BSR is tackling another major issue facing women around the globe: financial inclusion. The new project is called HERfinance, an education initiative meant to increase financial literacy for female laborers working in factories across the world's supply chains.[1]

CASH-STUFFED MATTRESSES: THE WORLD'S UNBANKED

In the rich world, having access to banking and other financial resources is such a normal part of everyday life that it's generally taken for granted. According to a 2010 report by the Washington, DC-based Consultative Group to Assist the Poor (CGAP), an independent policy group focusing on advancing financial access to the world's poor, 81 percent of adults in the developed world are banked; i.e., they take advantage of professional financial services to save and grow their wealth. In contrast, in the developing world, only 28 percent of adults are banked.[2]

The previous year, a CGAP survey estimated some 2.7 billion people globally do not use a basic banking service. The group said that this is a major developmental problem, "because poor people need safe ways to send, receive, and save money."[3] Clearly, one of the marks of a developed nation is a population that, for the most part, enjoys the benefits of financial inclusion. It is a critical driver of long-term economic growth, and women in particular are key to that growth.

THINKING ABOUT FINANCE ALONG GENDER LINES

At the 2011 Asia-Pacific Economic Cooperation (APEC) Women and the Economy Summit in San Francisco, U.S. Secretary of State Hillary Clinton, who chaired the event, called on APEC members to eliminate the social and systemic barriers blocking women's economic involvement, saying that "unlocking the potential of women by narrowing the gender gap could lead to a 14 percent rise in per capita incomes by the year 2020 in several APEC economies, including China, Russia, Indonesia, the Philippines, Vietnam and Korea."[4]

Indeed, there is mounting evidence that investments made in women, such as financial literacy, financial access and higher or even basic education, create a spillover or multiplier effect that occurs more frequently than when similar investments are made in men. Specifically, when women experience positive educational or economic growth through acquiring new skills or knowledge, such fruits directly benefit their families and local communities, even in developed countries.

"Although they play critical roles in local and global economies, women continue to be left out of the formal banking sector in larger numbers than men," said HERproject's program manager Racheal Yeager. "This reduces their ability to save and spend their earnings—and studies show that women reinvest up to 90 percent of their earnings into their families' health, nutrition and education—so this is a big loss."[5]

In addition to supporting better investments in the well-being of families, increased financial participation by women, BSR notes, also helps to "build credit worthiness, invest, and reduce risks related to illness or loss of employment."[6]

WOMEN IN THE WORKPLACE: YOUR ATTENTION PLEASE

In her excellent paper "Women Hold Up Half the Sky," Sarah Lawson, senior global economist at the Global Markets Institute at Goldman Sachs, noted that "[l]imited financial resources, cultural preferences and government policy all affect decisions about who has access to education and who has the opportunity to reap its full benefits. Greater gender equality will require not only investments in female education, but also changing attitudes in the workplace and new legislation."[7]

With HERfinance, BSR is helping to change those workplace attitudes. Considering the legions of women across the developing world working in factories along global supply chains, the initiative smartly targets the workplace as a site for increasing financial literacy.

"Workplace programs are some of the most effective ways to reach low-income women, and HERfinance will provide essential training on topics like budgeting, saving and using formal financial services," said Yeager.[8]

PRIVATE FUNDS IN THE PUBLIC INTEREST: CROSS-SECTOR COLLABORATION

Created with a founding grant from the Walt Disney Company—one of three major social investments recently made by Disney to support supply chain programs for labor forces in India, China and Brazil—HERfinance will start with a pilot program in India and then expand to Asia and Africa. The initiative is also supported by contributing grants from General Electric Foundation, the Levi Strauss Foundation, Fung (1906) Foundation, Primark and the Swedish International Development Cooperation Agency.[9]

"If women are more effectively integrated into formal financial systems and provided with basic information on how to use those systems effectively for household and small business finances," argues Yeager, "they will be better able to contribute to poverty reduction and economic growth on a global scale."[10]

###
NOTES
[1] BSR.
BSR Launches 'HERfinance': Financial Inclusion Program for Women in Global Supply Chains
. November 13, 2012. Accessed November 24, 2012.
[2] Jake Kendall, Nataliya Mylenko and Alejandro Ponce.
Measuring Financial Access Around the World
. Consultative Group to Assist the Poor (CGAP). March 15, 2010. Accessed November 25, 2012.
[3] Consultative Group to Assist the Poor (CGAP).
Boost for Mobile Banking for the Unbanked as CGAP, DFID Announce New Partnership
. March 11, 2010. Accessed November 25, 2012.
[4] Hillary Clinton.
Remarks at the Asia Pacific Economic Cooperation Women and the Economy Summit
. State.gov. September 16, 2011. Accessed November 26, 2012.
[5] Email from Racheal Yeager received November 21, 2012.
[6]
Ibid.
, 1.
[7] Sandra Lawson.
Women Hold Up Half the Sky
. Global Economics Paper No: 164. p. 14. March 4, 2008. Accessed November 26, 2012.
[8]
Ibid.
, 1.
[9]
Ibid.
[10]
Ibid.
, 5.
image: Women at work in Resco Biscuit Factory in Jessore, Bangladesh. (credit: Peter Casier, Creative Commons)