As a Justmeans staff writer for the Sustainable Foods editorial department, I explore the disparity between consumerism and independence through the topic of sustainability. As a self-described 'urban homesteader' I look to find the balance between a sustainable lifestyle and use of corporate convenience. I don't necessarily want to live without electricity, but I want to be comfortable if eve...
Food Safety: BPA and Health Hazards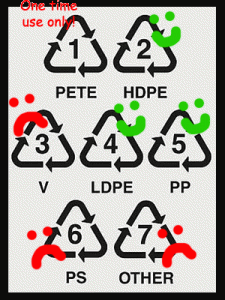 For some time now, BPA has been seriously questioned in the consumer base, governmental bodies and food safety agencies. BPA is used for water bottles and in the lining of canned goods as well as in many technology devices. Many people ingest it unknowingly as it

BPA stands for Bisphenol A. Bisphenol-a.org describes it as "an industrial chemical used to make polycarbonate plastic resins, epoxy resins, and other products," and claims, "For many years, polycarbonate plastic has been the material of choice for baby bottles and many reusable water bottles. In spite of years of scientific research that support their safe use, and multiple reviews of that research by government and scientific bodies worldwide, scare stories persist claiming that polycarbonate bottles are not safe. Recent research and up-to-date assessments once again confirm that polycarbonate bottles are safe for use."

However, as recent as September 2010, Canada declared BPA as a toxic substance. And while Wikipedia may not be the most trusted source at first glance, the BPA Page is enormously sourced (213 sources, to be exact) with scholarly citations to studies and reports discussing the number of health risks associated to over exposure to BPA.

One case in point: A study performed by Fertility and Sterility, the official journal of the American Society of Reproductive Medicine found that increased levels of BPA does reduce sperm levels:

After adjustment for potential confounders using linear regression, increasing urine BPA level was statistically significantly associated with




decreased sperm concentration,


decreased total sperm count,


decreased sperm vitality, and


decreased sperm motility.




Compared with men who did not have detectable urine BPA levels, those with detectable urine BPA had more than three times the risk of lowered sperm concentration and lower sperm vitality, more than four times the risk of lower sperm count, and more than twice the risk of lower sperm motility.
The FDA has recently reversed its original food safety clearance of BPA stating, "... On the basis of results from recent studies using novel approaches to test for subtle effects, both the National Toxicology Program at the National Institutes of Health and FDA have some concern about the potential effects of BPA on the brain, behavior, and prostate gland in fetuses, infants, and young children."
The FDA offers some
solid advice for parents
, as babies are most susceptible to high concentration levels of BPA. As our industrial system continues to
permit products into the marketplace
which have not been thoroughly tested, it is our responsibility as consumers to "stick with what we know," whatever that may be.
One thing we
do
know is that BPA exists in
virtually all canned food
. So buy only fresh food and learn how to preserve things yourself using glass jars. BPA is used in many plastics, so look for natural materials over synthetics (try a glass jar for portable fluids). Using the rule to "avoid recycle
numbers 3 - 6 - 7
, may help on the plastic side. But BPA is also found in
dental sealant
and in
consumer receipts
. There may not be a way to avoid some of these things in the consumer landscape. But if we look to simplify and opt out of certain actions, we may be able to reduce (and possibly eliminate) certain pathways that lead to the ruin of food safety.
Photo credit:
AwesomeBabyBlog