As a Justmeans staff writer for the Sustainable Foods editorial department, I explore the disparity between consumerism and independence through the topic of sustainability. As a self-described 'urban homesteader' I look to find the balance between a sustainable lifestyle and use of corporate convenience. I don't necessarily want to live without electricity, but I want to be comfortable if eve...
Food Safety: The Importance of Bees, Part Two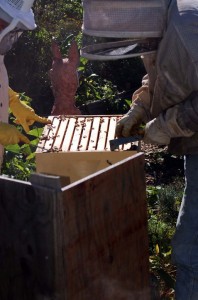 Continued from Food Safety: The Importance of Bees, Part One

Dr. Ostiguy noted that in the Northeast - or other parts of the country where an extremely diverse palette of food provides the honeybee with a wide variety of pollen and nectar sources - we find a lower rate of disease and mite infestation, though mites still exist, and always have existed. In places where mono-cropping is the primary source of industrial farming, we find higher rates of bee sickness due to lowered immunity rates. But not only does it reduce the immune systems of the bees, a mono-crop environment also reduces pollination rates.

It's not an incredibly large step to mirror the decline of honeybee health with the decline of American health since the introduction and streamlining of industrial food. Dr. Ostiguy outlined a parallel strategy for stabilizing the health of the honeybee with ideas culled to increasing the health of the human body.

First, she said that if we think of one colony as a town and a series of colonies like a city, it's a little easier to visualize how accidental cross-infection can occur. If we can recognize that a honeybee can travel up to 5 miles to forage, its intersection with sickly bees greatly increases, which then can be brought back to the hive and infect it. When that hive is too close to another hive, reasonable deduction incurs that the other hive can quickly be infected as well; thus starts the possibility of an epidemic. A preventative solution? Be sure to have a diverse system of flowering plants for them to fodder near; keep the hive close to home.

She noted that the problems are culturally and specifically different in Europe than the United States, and this is mostly due to the fact that European beekeepers are typically small beekeepers often with less than ten hives; while the majority of beekeepers in the United States are, in fact, small beekeepers, the industrial beekeepers could have upwards of thousands of colonies packed together tightly. If all the bees were healthy, this wouldn't be a problem. But as all bees are not healthy, this opens the door to certain diseases and viruses which result in two options: pesticide use or a planned killing of the infected bees so as to not infect at minimum the rest of the enormous colonies of industrial honeybees.

Neither option is a good plan, as the pesticide use can leach into the honey which we consume, or worse kill the bees which are already destined to die by the hand of the mites, other diseases or the beekeeper himself, in a dire straight. This is not to suggest that beekeepers want to kill their bees. In fact, it is quite the opposite. Beekeepers of any size want nothing more than healthy workers. It makes for good business sense as well as good ecological sense.

Dr. Ostiguy had some interesting organic methods of dealing with the mites - the most common problem when it comes to honeybees - but more importantly she stressed the ideas of prevention rather than treatment. Paraphrased, she said to treat the bees like you would treat any village of living beings: Give them diverse food sources, clean water and adequate space in housing; check on them often. Occasionally, a hive will get sick and die; that is a fact. But preventative care speaks for itself in the name of sustainability of a necessary function of food production and safety.

Missed the first part? Go back to read Food Safety: The Importance of Bees, Part One

Photo credit: Keri Marion from honey harvest, October, 2010; Information culled from real-time notes taken at lecture.