As a Justmeans staff writer for the Sustainable Foods editorial department, I explore the disparity between consumerism and independence through the topic of sustainability. As a self-described 'urban homesteader' I look to find the balance between a sustainable lifestyle and use of corporate convenience. I don't necessarily want to live without electricity, but I want to be comfortable if eve...
Food Safety and Public Schools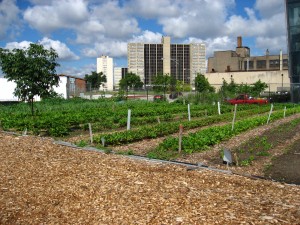 As more and more public schools take on the task of teaching children and families food safety and food independence, it seems out of sync that at least some of these schools would not create part of the lunch menu from the school gardens. Case in point: the Chicago Public School System (CPS) hosts an incredible forty (40) school gardens, none of which are allowed to serve their stock for lunch.

The Los Angeles Times ran a full report on the situation.

"Ideally, all of those [locally-raised garden] products would make it from the garden to the lunchroom," Merrigan said.

But rules created by CPS and its meals supplier, Chartwells-Thompson, prevent that from happening.

"In order to use food in the school food program, it would need to meet specific/certified growing practices," CPS spokeswoman Monique Bond said. These requirements would include eliminating all "pesticides and insecticide" applications and using only "commercially prepared organic compost and fertilizers," said Bob Bloomer, regional vice president of Chartwells-Thompson.
According to the article, at least one item in the gardens is grown with pesticide use and that could probably be fixed or not included in the menu (including contaminated products). But is all the food being trucked in from Chartwells-Thompson organic? Here's what it really comes down to: The schools are in a contract with Chartwells-Thompson, and has held this relationship since 2005. The
press release
states (emphasis mine):
The Board of Education for Chicago Public Schools, the third-largest school district in the United States, recently awarded its 2005-'06 foodservice contract to Chartwells-Thompson Hospitality.

The contract is worth $100 million in managed annual volume and will service 613 schools and 426,812 students. Annual revenue will exceed $52 million.
A spokesperson for Chartwells said that "Farmers and suppliers of our produce are professionals, and therefore are at less risk of conducting poor agricultural practices ... Those that are working a school garden may not always be as cognizant of what constitutes good agricultural practices." And while that's true on some levels, it's a bit of a cop-out on others. How does the Chartwells know that the "farmers and suppliers" are accountable for what they produce? Does they shake hands with the "farmers and suppliers" every morning? Do they look them in the eye with warning of how important their role in supplying the food to the sixth largest school system in the United States is? Do the children and parents truly know where their food comes from?
While there does exist a certain requisite of proactive and cognizant steps to ensure the growing of safe food for public schools, there's no reason that the gardens can't augment an otherwise unsustainable, already-in-place industrial food system. Anything we can do to help promote the consumption of fresh fruits and vegetables in schools betters the chances of children being provided with real nutrition. Especially in urban environments where many children come from working class families that feel they have little time to prepare wholesome meals most days of the week.
To promote healthy food choices as well as lower childhood obesity
and its consequences
, accountability is key. Who could be more accountable than the neighborhood that produces it? Food safety in public schools starts at home. If children are being served industrial food at school it is up to us to prepare them wholesome food at home and send it along with them. Food safety is in our hands.
Photo credit:
Linda
from Chicago, USA