Corporate Social Responsibility writer for Justmeans, Antonio Pasolini is a journalist based in Brazil who writes about alternative energy, green living and sustainability. He also edits Energyrefuge.com, a top web destination for news and comment on renewable energy and Elpis.org, a recycled paper bag/magazine distributed from health food stores in London, formerly his hometown for over a decade....
GM Joins Solar Energy Industries Association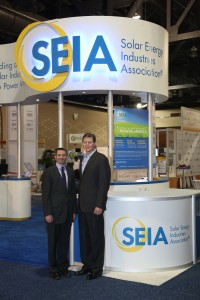 General Motors has become a member of the Solar Energy Industries Association to highlight its commitment to clean energy. The company's solar arrays in the United States generated enough electricity in 2012 to power 800 U.S. homes; that figure is expected to double in 2013.

"Part of our renewable energy goal as a company involves helping other organizations learn how to successfully implement renewable energy strategies," said Rob Threlkeld, renewable energy manager for GM.
Last year, SEIA ranked GM as the top automotive solar user in the United States. It appeared at number 13 among all other companies, such as IKEA and Walmart, making significant use of solar power.

"SEIA is thrilled that General Motors has made solar deployment such an integral part of their global sustainability practices," said Solar Energy Industries Association President and CEO Rhone Resch.

GM's solar installations in the U.S. include:



1.8MW rooftop solar array at Toledo (Ohio) Transmission Plant, which is expected to generate 3 percent of the plant's electric consumption.


1.237MW array on the rooftop of its White Marsh, Md. plant near Baltimore - one of the largest in the state - and generates nearly 6 percent of the facility's electric consumption.


1MW solar array on the rooftop of its Rancho Cucamonga (CA) distribution center. It was the first public solar project in the United States at 1 megawatt when it began operating in 2006.


900kW rooftop array on its parts distribution warehouse in Fontana (CA); 516kW ground-mount solar array at Detroit-Hamtramck Assembly - the largest of its kind in Michigan.


350kW ground-mount array at GM's Lake Orion Assembly Plant, which will provide enough energy to power the equivalent of 45 homes annually in Michigan.


Walmart ranks as the
biggest corporate user of solar power,
with 65,000 kW installed capacity. Ikea recently
completed its 35th solar installation
at its South Florida store in Sunrise (FL), which elevated the company to the status of Florida's largest non-utility solar power owner.
Image credit: GM
magdaline 01pm March 07


GREETING, magdaline_buba@yahoo.com Hello my dear friend i am Miss magdaline, how are you?please my dear i know you may be surprise,i want ...