Jeremy C Bradley is a staff writer for the Finance & Investment category of Justmeans. He is a graduate of Lincoln University of Missouri where he earned a degree in biology and philosophy. He also holds an MBA. Jeremy is an expert in the business field, having worked in development and marketing at major New York City non-profit organizations. Among the highlights of Jeremy's career is sp...
Gainful Employment: New Issue at For-Profit Schools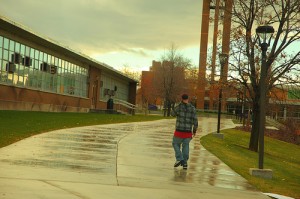 For-profit schools have been a point of contention in the education field for some time now. Since this past summer, the Obama administration has worked to implement new policies that give the Department of Education (DOE) the authority they need to control corrupt practices at for-profit colleges and universities. One crucial policy change, the "gainful employment" provision, is still awaiting approval.

The "gainful employment" provision, if enacted, would scrutinize for-profit schools, as well as nonprofit trade schools, to determine the amount of debt their students accumulate paying tuition. The provision would also allow the DOE to research how many of these same students secure jobs after graduation and whether or not those jobs pay enough to allow the students to repay their loans. Schools that have high debt ratios combined with low repayment rates could lose eligibility for financial aid. The DOE estimates that nearly five percent of programs would be forced to close if the rule is enforced.

Other rules on for-profit schools have similar affects. Colleges and universities will be forbidden from paying recruiters commission based on the number of students they enroll. These schools will also be required to inform students of the graduation and job placement rates of the programs the schools offer.

A new study released by Education Trust, a nonpartisan think-tank, underscores the need for regulation in the for-profit industry. On average, for-profit schools graduate only 22 percent of their students within a six-year time frame. As comparison, public schools graduate 55 percent and private non-profits graduate 65 percent. The report also indicates that students who attend for-profits leave the schools with significantly higher debt than students from public and non-profit schools.

So what's holding the "gainful employment" policy from enactment? The DOE says it is still studying the proposal to ensure that it doesn't hurt for-profit schools that are actually doing good work. Yes, for-profits that offer quality instruction and wholesome advisement do exist. It would be unfair to punish students at these worthy institutions because of the flops at less-genuine for-profit colleges and universities. Let's hope the DOE finds a way to implement the "gainful employment" provision without punishing well-performing for-profit colleges.

Photo Credit: Pink Stock Photos
Jeremy Bradley 05am December 10


William, I like your comment about the "American Nightmare." You're on point. We must do a better job of examining for-profit colleges and u...