Reynard Loki is a Justmeans staff writer for Sustainable Finance and Corporate Social Responsibility. A co-founder of MomenTech, a New York-based experimental production studio, he writes the blog 13.7 Billion Years and is a contributing author to "Biomes and Ecosystems," a comprehensive reference encyclopedia of the Earth's key biological and geographic classifications, published in 201...
Goldman Sachs' $40 Billion Clean Energy Investment: Sustainable Finance Awesomeness or Public Relations Ploy?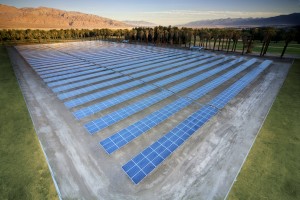 A ten-year financial commitment to green energy is a good thing. So why all the cynicism?

At its annual shareholder meeting Thursday in Jersey City, New Jersey, Wall Street behemoth Goldman Sachs announced that it plans to invest $40 billion into global renewable energy projects over the next decade.

"This is another emerging opportunity we think will be quite large," said Stuart Bernstein, head of Goldman's clean technology and renewables investment banking group.[1]

The commitment follows Goldman's financing of $4.8 billion and co-investing of over $500 million in green energy in 2011.[2]

HOW MUCH IS $40 BILLION?

Let's put the amount into context. $40 billion is bigger than the GDP of Ghana, Libya, Kenya, Bahrain, Bolivia, Estonia, Iceland—and over 100 other nations.[3] It's only $5.5 billion shy of China's clean energy investment last year.[4]

But a better comparison would be to look at the annual amounts. At an average of $4 billion a year, Goldman's ten-year green energy plan puts the investment ahead of the clean energy stimulus funds spent by the governments of several G20 countries in 2011, including the United Kingdom, Japan, Canada, France, Brazil and Australia.[5]

The plan includes investments of its own and clients' money in a wide array of greentech and cleantech, including "solar, wind, hydro, biofuels, biomass conversion, energy efficiency, energy storage, green transportation, efficient materials, LED lighting and transmission," according to Reuters. In addition, the firm said it would zero out its own net carbon emissions by 2020.[6]

"The clean tech industry is expected to be a rapidly growing market and one that we believe is at a momentous point in terms of the expansion of technologies that will help diversify energy sources and improve the environment," Goldman spokesman Michael Duvally told Agence France-Press.[7]

MIXED RESPONSE REVEALS CYNICISM

Still, Goldman has assets approaching $1 trillion, so it's a relatively minor annual amount for the financial giant—and some $800 million less than their investment in the sector last year. Unsurprisingly, the announcement has led to much speculation about why Goldman is really doing this.

"[R]enewable energy projects [are] an area the investment bank called one of the biggest profit opportunities since its economists got excited about emerging markets in 2001," writes Lauren Tara LaCapra of Reuters. "Analysts and experts said Goldman may also be looking to score public relations points for a relatively small investment."[8]

"With solar and wind power nearing cost levels that are competitive with fossil fuels, clean energy could burnish Goldman's bottom line as well as its green credentials," writes Reuters Breakingviews columnist Christopher Swan. But he adds, "[a] degree of cynicism over Thursday's announcement is warranted."[9]

PUDDING: THAT'S WHERE THEY KEEP THE PROOF

"There's no doubt that Goldman—and every other investment bank—sees the opportunity to invest in renewable energy as a way to improve its brand," writes Stephen Lacey on ThinkProgress.org. "But committing $40 billion to the sector is more than a public relations campaign. It's a clear sign that banks see the benefits of investing in these technologies."[10]

Rich Smith of Motley Fool disagrees with critics who argue that "[a]ll Goldman's really doing…is tooting its own horn about something it's already doing, and attempting a 'charm offensive' to distract people from its misdeeds."

"Hate Goldman Sachs all you want," he says. "[B]ut the idea that one of the smartest, and richest investment bankers in the world would spend $40 billion on a PR campaign trying to make itself look good is, on its face, nonsensical. There's no return on investment in something like that."[11]

Whatever the real motive, Goldman's commitment to a more sustainable energy future has given more credence to their moniker as the "Godfather of Wall Street." After all, $40 billion is an offer the green energy sector can't refuse.

###
NOTES
[1] Lauren Tara LaCapra.
Goldman sets $40 bln clean energy investment plan
. May 23, 2012. Accessed May 25, 2012.
[2] Agence France-Press via France24.com.
Goldman to plow $40 bn into green energy
. May 25, 2012. Accessed May 25, 2012.
[3] International Monetary Fund.
World Economic Outlook Database
. April 2012. Accessed May 25, 2012.
[4] Pew Charitable Trusts.
Who's Winning the Clean Energy Race? 2011 Edition
. April 12, 2012. Accessed May 25, 2012.
[5]
Ibid
.
[6]
Ibid
., 1.
[7]
Ibid
., 2.
[8]
Ibid
., 1.
[9] Christopher Swan.
Goldman renewable energy dash more than greenwash
. May 24, 2012. Accessed May 25, 2012.
[10] Stephen Lacey.
Goldman Sachs To Invest $40 Billion In Clean Energy: 'The Underlying Thesis Still Holds True'
. May 24, 2012. Accessed May 25, 2012.
[11] Rich Smith.
What's Goldman After With Its Big Green Energy Plan? More Green
. May 24, 2012. Accessed May 25, 2012.
image: Furnace Creek Solar Array, Death Valley, California. The flat panel photovoltaic array generates approximately 1MW of electric energy, powering a portion of the demand from Furnace Creek Ranch and Resort inside Death Valley National Park. (credit: spy solar, Wikimedia Commons)