Akhila is a Justmeans staff writer for CSR and ethical consumption. As an IEMA certified CSR practitioner, she hopes to highlight a new way of doing business. She believes that consumers have the immense power to change 'business as usual' through their choices. She is a Graduate in Molecular Biology from the University of Glasgow, UK and in Environmental Management and Law. In her free-time she i...
Green Living: Have yourself a Merry Green Christmas!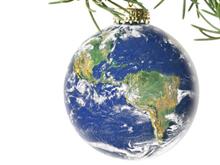 I'm guessing Christmas shopping has already started for many and I know of some people who have put up trees already. Christmas is a nice season: it wraps up the end of the year, gives us time to contemplate, spend time with families, shop and eat. Who doesn't like all of that? Modern Christmas is also supremely consumerist, so like with other holidays, it is essential to consider your personal footprint.

The recent survey released by price comparison site GoCompare via the Energy Saving Trust of British householders revealed just how much energy is wasted by Christmas lighting. 52% of respondents intended to display decorative Christmas lighting outside their house. With this in mind, GoCompare calculated that a display of 100 five-watt bulbs switched on for six hours a day over the festive period will consume 207 Kwh, the equivalent of 22.8 days of the average British household's electricity consumption.

According to the American Environmental Defense Fund one of the easiest ways to lower Christmas electricity bills is by buying energy-saving LED decorative lighting, suitable for both outdoor and indoor displays. Though LED Christmas lighting often costs more than traditional alternatives, in the long term it consumes far less energy, which leads to lower electricity bills and reduces the environmental impact of the festive season. They also last longer.

Lighting is not the only way to reduce your festive footprint, as ethical consumer this can be extended to the food and drinks you serve as well as the presents you give, cards, the tree you choose - the list is endless. There are now many options when it comes to trees as well. A real tree wins, because artificial trees are made of PVC which is hard to recycle. Christmas tree farms, have sustainability built into the business: when you cart your tree off for trimming, they'll plant another one to sell a few years down the line. However, make sure that you opt for an organic farm that does not use pesticides and fertilizers. Additionally find out if you can rent a Christmas tree, or plant one in your backyard which you can use year after year.

Green gifts are an excellent idea as they not only promote your idea of ethical living but also reduce the user's footprint as well as yours. Think of recycled items like jewellery, or eco-friendly cosmetics or a Fairtrade hamper. Think of buying gifts that will benefit the people who make them, like handicrafts. When it comes to greeting cards, think of making your own or using recycled, eco-friendly paper or even ethically sourced fabric.

How about the idea of not giving presents at all? Instead donate old clothes, toys and your time to a favourite charity or organize a day of volunteering. Maybe without the focus on stuff, the true meaning of the season can be discovered. 'Tis the season of giving, after all.
Akhila Vijayaraghavan 10pm November 27


Alison, thanks for spotting the typo: its meant to be 0.002W. Numbers aren't my strong point but they are obviously yours! I agree with you ...