As a Justmeans staff writer for the Sustainable Foods editorial department, I explore the disparity between consumerism and independence through the topic of sustainability. As a self-described 'urban homesteader' I look to find the balance between a sustainable lifestyle and use of corporate convenience. I don't necessarily want to live without electricity, but I want to be comfortable if eve...
Healthy Food Healthy Chickens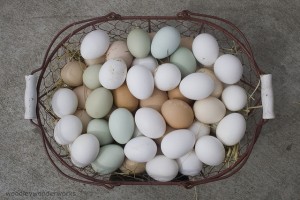 Healthy food can appear to be expensive in the individual case. As I've noted in Sustainable Food is Affordable, a food budget should be looked over as a general whole and not as the individual parts. Such is the case for eggs. I get eggs from a farm and when I did the math, it came out to be about $7 per dozen. That seems steep, but in the big scope of my weekly budget, I'm spending between $40 to $50/wk for sustainable, local, ethical, nutrition-packed healthy food.

It used to be that the average American would eat a little more than 1 egg per day in the 1940s. Around 1965, suspiciously the same time food started to become industrialized on a grand scale, the American Heart Association recommended that people restrict their egg consumption to just three per week to reduce the risk of heart disease, suggesting the the cholesterol in eggs aided to the problem. By 1974, egg consumption had dropped to 289 per year, about 3/4 egg per day, or in more realistic terms, eggs for breakfast 2-3x a week.

In the late 70s, large egg farmers were concerned that the egg was getting a bad rap, and formed the American Egg Board, which pumped millions of dollars into advertising campaigns and, thus, "the incredible, edible egg" campaign was revitalizing America's long lost love of whole eggs. And later, of course, egg whites only in cartons to support the "low fat" craze of the 80s.

Eggs, in themselves are not bad for a person to eat, in fact, they can be quite good for a healthy body! They can be an inexpensive source of protein and other rich nutrients; they have great texture and are extremely versatile wielding itself a "power staple food". But only if they're purchased with care.

Corporate eggs are very inexpensive, and when one is faced with cheap eggs vs. no eggs, I am not one to stand in the way of it; however, I would like to bring attention to why a person might want to consider paying more for a locally-raised egg:



Corporate egg farms are often raising sick hens. The corporate farm is about numbers and dollars, and therefore they're not exporting food, they're exporting "product". The hens are typically kept in very poor conditions and become sick or lame (the lameness in itself doesn't hurt the egg, but the fact that the lameness as a byproduct of the sickness is the problem). These chickens are - in general - fed the cheapest feed possible.


Much of the cheap chicken feed is laden with GMO crops. We don't know exactly how GMOs will react in our bodies, even second-hand (egg), but what we know with certainty is that many GMO crops are created to withstand heavy applications of herbicides and pesticides, which run off into rivers, lakes and neighboring soils. The feed itself will likely contain these same chemicals which the chickens eat and then we eat.


Eggs are a high source of protein and cholesterol, but they're very good for you when eaten both moderately and in conjunction with companion foods like oats or greens. With low-nutrient eggs, you are getting the cholesterol without the nutrient. The yolk of an egg should be almost orange, not sunshine yellow.


Corporate accountability is misleading at best - they have millions of dollars invested in marketing teams to combat bad press. I don't even trust the "organic" or "free range" label much myself, though I will choose them if I'm in a pinch. These labels have been bastardized by lobbyists to mean very different things than what they really are. More on this momentarily.


Purchasing eggs from a local, responsible, ethical chicken farm supports a local business whose livelihood actually depends on the quality of their product / word of mouth. You should be able to drop in on your farmer to check out his operation.


This is not to suggest that when you go to the store, you opt immediately for the fancy $7 per dozen eggs. That would be equally as foolish as reaching immediately for the $2 per dozen eggs. What's important to understand is the terminology in "free range" and "organic". These terms sometimes - but not always - equal accountability.
"Free Range" by definition of the USDA is "Producers must demonstrate to the Agency that the poultry has been allowed access to the outside." [1] The length of time and specific definition of "outside" is not specified. I would be suspicious of a "free range" dozen that cost less, than, say, $3 because of the manpower involved in letting chickens outside when considering the sheer amount of chickens involved in corporate layer flats. As far as organics go, I wrote an article about the USDA
definition of "Organic"
and as it can be a bit complicated, it is available as a consumer resource
at the USDA Organic Website.
Further, the topic of Organics is a
favorite topic
of Justmeans editorial writers. So you don't have to take
my word
for it. Read it for yourself!
What things are and what they appear to be sometimes mesh and sometimes don't; so it's up to us as consumers to make the decisions that are right for us. The only way we can do that is by educating ourselves about the nuances, ask questions, find answers, and do our share to help other people to understand what it means to support choices that benefit our fiscal and social system: No matter what the cost, thick or thin, quality food is healthy food.
Photo Credit:
[1] http://www.fsis.usda.gov/factsheets/Meat_&_Poultry_Labeling_Terms/index.asp