Ano is a Justmeans staff writer for health, and an instructional designer for the newly created Master of Health Care Delivery program (mhcds.dartmouth.edu) at Dartmouth College. Ano brings over a decade of evidenced-based health research and writing, and a Masters of Public Health from Dartmouth Medical School to the Justmeans Editorial section. Special interests include health policy, conflict ...
Hi-Tech Radiation Risks (part 1): Airport Backscatter X-Rays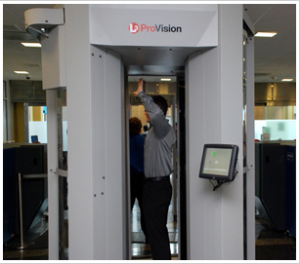 A newly published report related to cancer risks posed by modern technology may well lower growing concerns about the safety of the 486 "backscatter x-ray" scanners introduced by Homeland Security for enhanced airport screening (another 500 are planned). Will they also allay your fears or concerns?

First, Through Airport Security

New airport scanners that provide TSA's a sneak peak under your clothing to check for bombs, weapons and other contraband have raised travelers hackles on two accounts. The first being privacy issues: We just don't like being technologically disrobed by strange men and women in the airport wearing funny badges and rubber gloves. The second is probably more serious: Concerns about increased cancer risk related to the additional radiation dosage that the scanners provide.

A new write up in the Archives of Internal Medicine appears to allay the cancer fears. The authors, from departments of public health, radiology and biomedical imaging, and obstetrics and gynecology at the University of California ran estimates of cancer risk based on the purported dosages the machines provide. What they report:

-The radiation dosage equals 3-9 minutes of radiation received from "daily living," seeing as the sun is constantly deluging us with the stuff.

-You receive about 100 times more radiation from a ride at altitude in a plane (depending on the length of the flight naturally)

-50 airport scans equals one dental x-ray, 1000 equal a chest x-ray and 4000 equal a mammogram.

-If 100 million people flew 750 million times in a year, you could expect to see 6 additional cancers from the x-ray machines.

-If 1 million frequent flyer embarked on 10 six-hour trips a week, you'd see 4 additional cancers from the x-rays, plus 600 additional cancers related to flying at high altitude.

-Since cancer risk may be higher among children, for whom the dose is relatively higher, they calculated it for a five-year-old girl's risk of developing breast cancer. For every 2 million five-year old who flew one trip a week, you could expect to see one additional case of breast cancer over their lifetime.

Sounds assuring, right? These figures of course assume that the machines are in good working order, and appropriate run, maintained and use the proper settings. Is it possible that relatively low-paid, modestly trained TSA's might accidently up the juice on a scanner and significantly raise the radiation dose? Could the federal government potential try to save money by relaxing maintenance schedules or going with the lowest bidder?

Even in healthcare settings that are overrun with doctors and advanced degrees radiation accidents from scanners occur. The potential that it might happen at a busy airport is certainly a possibility.

The comparison with the radiation dangers of flying is also interesting. Should we be comforted by the fact that the x-ray machines only expose us to 1% of the radiation of a high altitude flight, or concerned that flying exposes us to 100 times the radiation of the x-ray?

Do any of these figures allay your concerns with airport scanners?

Photo credit: TSA.gov
Jeff Rockyflatsgear 01am April 27


The backscatter x-ray dose is deceptively low due to how the measurement is averaged and how the particular ionization detectors used by t...