Reynard Loki is a Justmeans staff writer for Sustainable Finance and Corporate Social Responsibility. A co-founder of MomenTech, a New York-based experimental production studio, he writes the blog 13.7 Billion Years and is a contributing author to "Biomes and Ecosystems," a comprehensive reference encyclopedia of the Earth's key biological and geographic classifications, published in 201...
Kilimo Salama: Farmers in Kenya Cash in on a New Microinsurance Program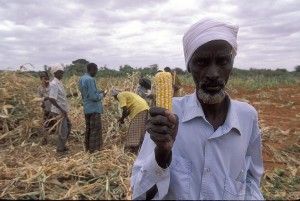 "Insurance...offers significant capacity and ability to understand, manage, and spread risks associated with weather-related events...increasingly so in developing countries and economies in transition." -- Evan Mills, Lawrence Berkeley National Laboratory[1]

It's not easy being a farmer in Kenya, where less than a fifth of the land is suitable for cultivation. And it's particularly difficult during the Horn of Africa's worst drought in 60 years. But thanks to a microinsurance program that was launched last year, some corn and wheat farmers who lost their crops will be able to afford to farm next season.

A joint-program started by the mobile operator Safaricom, UAP Insurance and Syngenta Foundation, a non-profit organization that supports small farmers in developing nations and emerging markets, Kilimo Salama ("safe farming" in Swahili), offers farmers an insurance policy for investments that are lost to the vicissitudes of weather.

The set up is simple yet effective: Farmers who live in any of the five covered regions across Kenya -- Bungoma-Busia, Oyugis-Homa Bay, Nanyuki-Timau, Embu and Eldoret -- register with one of 30 solar-powered weather stations and purchase insurance when they buy seed or fertilizer. Drought severity is calculated by the weather stations and participating farmers receive payments through their mobile phones.

GROWING TRUST: PAY AS YOU PLANT

"This 'pay as you plant' type of insurance allows farmers to 'try out' insurance, a product they have never bought before and which has a negative reputation in Kenya," according to Syngenta. "Experience shows that as farmers learn to trust insurance, they expand their coverage and are comfortable investing more in their farm, raising their productivity and increasing their food security."[2]

"Many farmers find this to be an effective way of ensuring that, when adverse effects of nature set in, they can find an alternative source of funding in order to cultivate again," said Silas Waweru, an insured farmer who has cashed in on a payout.[3]

GIVE A MAN A FISH...

Some studies show that aid spurs economic growth. Others show the opposite effect. Still others show there is no net effect. But what is clear is that in a crisis situation, such as the drought in Africa, aid is necessary when immediate help is required, particularly with food, water and medical supplies.

What is also clear is that the availability of aid is variable, uneven and attached to politics. In a 2009 IMF working paper, Camelia Minoiu from the IMF Institute and Sanjay G. Reddy, an economist from Columbia University, note that American aid, for example, is (unsurprisingly) influenced by its Middle East policy, while former colonial powers like the United Kingdom and France direct most bilateral aid to their former colonies (perhaps driven by a bit of colonial guilt).[4] And while they find that developmental aid is "likely to create sizable returns in the long run," it is just one tool in the poverty alleviation toolkit. Innovative microfinance concepts like Kilimo Salama are also powerful tools.

BAADA YA DHIKI FARAJA

With over 13 million people in Somalia, Ethiopia and Kenya who need immediate assistance, the recent announcement that the Bill & Melinda Gates Foundation is giving USD 4.1 million to support the drought relief efforts of the International Medical Corps and the Mercy Corps is certainly welcome news.[5]

But it is also welcome news that the new Kilimo Salama microinsurance scheme has already had initial success. "We believe Kilimo Salama can revolutionize insurance and make it accessible to farmers," said UAP's managing director James Wambugu. "By using the weather stations to verify local weather conditions, we are avoiding claims procedures that have created mistrust and led people to avoid insurance. As such, this strategy has the potential to make agricultural microinsurance affordable and attractive for smallholder farmers and economically viable for insurance companies in developing countries that had previously written off the agricultural sector." The program hopes to ultimately reach 50,000 Kenyan farmers.[6]

"Baada ya dhiki faraja" is a Swahili proverb that means, "After hardship, comes relief." For the some 12,000 Kenyan farmers who are enrolled in Kilimo Salama, this saying has become an economic reality.

###
NOTES
[1]
http://www.springerlink.com/content/ppu6371751202766/
[2]
http://www.syngentafoundation.org/index.cfm?pageID=674
[3]
http://www.scidev.net/en/agriculture-and-environment/farming-practices/news/micro-insurance-scheme-pays-off-for-kenyan-farmers.html
[4]
http://www.imf.org/external/pubs/ft/wp/2009/wp09118.pdf
[5]
http://www.impatientoptimists.org/Posts/2011/10/Recovery-and-Resilience-in-the-Face-of-Drought
[6]
http://www.scidev.net/en/news/kenyan-farmers-get-micro-insurance.html
image: Gathering corn, Kenya (credit: World Bank, Flickr Creative Commons)