Harry Stevens is a freelance reporter covering climate change, corporate social responsibility, social enterprise, and sustainable finance. Harry has contributed to several media outlets, including Justmeans, GreenBiz, SocialEarth, and Sustainablog. You can follow Harry on Twitter: @Harry_Stevens...
LG Electronics USA Signs Broad Environmental Agreement with U.S. EPA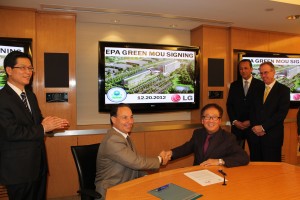 Wayne Park of LG Electronics USA and Andrew Bellina of the U.S. EPA sign an MOU for broad environmental collaboration
LG Electronics USA has signed a memorandum of understanding with the U.S. Environmental Protection Agency to collaborate on several environmentally beneficial initiatives. In doing so, the North American subsidiary of the world's fifth-largest mobile phone company became the first leading consumer electronics manufacturer to sign such an agreement with the EPA.
Under the agreement, LG has pledged to participate in a veritable laundry list of EPA stewardship programs, including the ENERGY STAR Commercial Building Program, the EPA WasteWise Program and the EPA Sustainable Materials Management programs, among others.
The agreement between EPA and LG builds on the company's already robust commitments to the EPA's programs. LG recently earned recognition as a 2012 ENERGY STAR Partner of the Year for over 400 ENERGY STAR qualified appliances and electronics models and training more than 110,000 sales associates on the benefits of ENERGY STAR qualified TVs and other products.
LG has also already joined the EPA's Green Power Partnership, and the company will expand its role in the Green Power Partnership under the new agreement by increasing its purchase of green power.
The new agreement commits LG to a broad range of environmentally beneficial commercial building practices, both for new sites and for retrofits of older facilities. Among LG's more impressive plans is an almost 500 thousand square foot office building to serve as the company's North American headquarters in Englewood Cliffs, N.J. The proposed design includes a broad range of environmentally beneficial elements that should achieve a LEED Gold certification from the U.S. Green Building Council.
LG is currently reviewing more than 15 of its other office buildings for operating and energy efficiency enhancements, and the company has agreed to use the EPA GreenScapes program to support environmentally friendly landscaping practices designed to reduce waste, cut energy usage and conserve water. LG is also incorporating EPA WaterSense technologies at its facilities to conserve additional water.
LG has also made strides to combat global warming. The company recently committed to reducing its greenhouse gas emissions for its U.S. operations by 50 percent by 2020, compared with a 2007 baseline. LG says this ambitious target places it ahead of its industry competitors.
The memorandum of understanding also explicitly states that LG will pursue a consumer education initiative aimed at reducing the environmental footprint of product use, reduce electronic waste through consumer recycling programs, reduce the use of hazardous substances in its products, and develop innovative green life cycle product designs.
As part of the agreement, LG will submit an annual status report to EPA, which will assess the environmental benefits associated with the company's activities and provide feedback. The memorandum was signed by Judith A. Enck, Regional Administrator for EPA, and Wayne Park, President and CEO of LG Electronics USA.
"Sustainability is a core value at LG," said Park. "From our ambitious carbon reduction commitments, to our industry-leading efforts to bring high efficiency ENERGY STAR qualified products to market, to our support for environmental efforts around the world, reducing environmental impact, while enhancing consumers' lives through innovation."