Tricia is a sustainable food staff writer for Justmeans. She is passionate about food: growing it, helping others grow it, and eating it. She is an environmental educator who has been working in community-based education for fourteen years. She enjoys growing food in her small garden and runs a gardening mentorship program for local families. She's also a member of six community supported agricult...
Local Food in the Underground Kitchen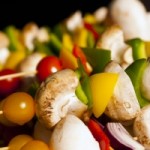 She calls herself the Marmite Lover, and she is part of an underground movement to support local dining. Now certified and legal, her restaurant kitchen began in her home, without official licenses. Take a look at her web site and drool: this is the house that you want to get invited to for dinner, and you can be. Just get a ticket.
Informal community meals have been going on forever. They're the co-op potluck and the church basement soup lunch. Now, they're transforming into more: a way to make a living. Think renegade caterers creating gluten-free cakes from their basements and selling them in the neighbourhood. Think the pocket market gone indoors. Call it a supperclub or call it an informal, underground restaurant, this is a way to make a living and make it locally. The underground restaurant is not to be inhibited by the need for space and a formal cooking area. The Marmite Lover is on the edge of a trend.

What goes on in an underground restaurant? Well, up to 30 people can come to this one once a week, where they'll be served delicious food in good, neighbourly company. Ms Marmite Lover will create vegetarian, vegan and gluten free meals and is inspired by Italian and French cooking as well as the spices of Thai and Indian food. The restaurant is open once a week and Ms Marmite Lover also does dinners at other locations. Sometimes she does private dinners, and sometimes she doesn't. It's all very self-defined.

There are invitations too, for events like farmers' and crafters' markets, all designed to fit in a small living space. Call it closet economics or local revitalization: this underground movement is all about mutual support.

Ms Marmite Lover is moving beyond her borders too. The Supperclub Fan Group promotes other supperclub events as well. From Mama Lan to the Carrot Feast to the Secret Tea Room, supperclub announcements add an aura of mystery to local dining. It's the antithesis of big box and chain restaurants, where the food is always there, and predictable.

The new rise of foodie culture springs from an interest in local food, local dining, and sustainable and organic ingredients. The allure of the supper club is the allure of something that seems not quite standard, a little wacky, and absolutely delicious. It's food on the edge. Dig in.