Harry Stevens is a freelance reporter covering climate change, corporate social responsibility, social enterprise, and sustainable finance. Harry has contributed to several media outlets, including Justmeans, GreenBiz, SocialEarth, and Sustainablog. You can follow Harry on Twitter: @Harry_Stevens...
Mother Nature Network Launches Walmart-Sponsored Editorial Section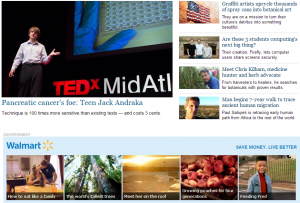 Mother Nature Network's "Leaderboard" features stories of inspiring leaders as well as advertorials from Walmart, which sponsors the site.
Mother Nature Network (MNN) has launched a new editorial section called "The Leaderboard" that features stories of social entrepreneurs and other leaders working to address societal and environmental woes.
The site features a wide variety of stories - graffiti artists
recycling used spray cans
, a designer who created
a Braille phone for the visually impaired
, doctors using communications technology to
treat small-town patients
- that are meant to inspire and instruct those interested in creating a better world.
"There are an incredible number of new ideas, programs, products, and services being created which will have a very positive impact on sustainability," said Joel Babbit, Chief Executive Officer of Mother Nature Network. "And most interestingly - they aren't all from large corporations. Many are developed by very small companies, schools, non-profit organizations - some even by single individuals."
The new editorial section is sponsored by Walmart, a company whose record on corporate social responsibility has been nothing if not inconsistent.
A particularly illustrative example: While at first Walmart
attempted to distance itself
from a fire that killed 112 people at one of its supplier's factories in Bangladesh, the company has since devoted significant resources to
toughen its fire safety rules for suppliers
.
And while Walmart has made
significant strides
towards operating more sustainability and responsibly in recent years, the company is currently
mired in scandal
after it was revealed that its Mexican subsidiary bribed local officials to build a store on protected land and then covered up the bribery to protect the company's burgeoning reputation.
It's a mixed record at best, and it stands to reason that Walmart would seek to associate itself with a leading environmental news outlet like MNN.
The new MNN site has ceded significant real estate to advertorials created by Walmart which run just below the lead headlines. It is, of course, not uncommon for news sites (including this one) to rely on corporate financial support to operate, but corporate sponsorship of news sites can become a prickly issue when advertisers seek to control the editorial agenda.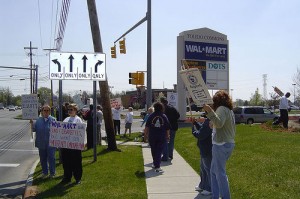 Protesters outside a Walmart in Toledo, Ohio. The world's largest retailer has made a huge effort to improve its CSR profile, but its record remains mixed.
A case in point: In April of last year, Mother Nature Network ran a story about a study that showed that
communities lose money in sales and wages whenever the world's largest retailer comes to town
. In November, however, Walmart
announced a new advertising partnership with Mother Nature Network
, and the latter's recent coverage of the former has been decidedly more positive ever since.
Still, "The Leaderboard" features a number of interesting stories, and Walmart insists that its sponsorship of the site is in good faith.
"Walmart has a responsibility to use its size and scale to influence positive change, and we believe 'The Leaderboard' will be a place to showcase cutting edge ideas and spark further adoption," said Andrea Thomas, senior vice president of sustainability at Walmart.
Moreover, MNN tends to favor inspiring human interest stories over hard-hitting breaking news, so it should be able to avoid serious conflicts of interest. Indeed, MNN describes itself as "engaging, non-political, and easy-to-understand," and "designed for a mainstream audience," and perhaps it is this non-confrontational style that has helped the site attract corporate sponsorship.
The upshot of all this is that those interested in inspiring stories of social and environmental leadership should check out "The Leaderboard," which, like all of Mother Nature Network's sites, will probably make for enjoyable reading. Just don't expect the site to feature certain inspiring stories about
Black Friday demonstrators
,
gun control advocates
or
factory safety protesters
.
Image credit: Brave New Films, Flickr