Corporate Social Responsibility writer for Justmeans, Antonio Pasolini is a journalist based in Brazil who writes about alternative energy, green living and sustainability. He also edits Energyrefuge.com, a top web destination for news and comment on renewable energy and Elpis.org, a recycled paper bag/magazine distributed from health food stores in London, formerly his hometown for over a decade....
New Report Highlights Uses of M2M Technologies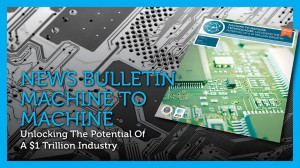 It's time to add one more acronym to our ever-expanding lexicon of acronyms: M2M, or machine to machine communication through sensors and networks that allow all the parts of a physical system to communicate directly with each other.

By now, many of us have heard of the Internet of Things, the concept that takes connectivity beyond the realm of electronic gadgets into everyday life objects such as bicycles and fridges. M2M is part of that drive towards creating a totally connected world. New research by British firm Machina Research believes there will be 12.5 billion connected non-information devices by 2020, a huge increase from the current 1.3 billion connected objects in the world today, writes Newsday.

AT&T thinks M2M will radically change the way we work, live and travel. It will allow us to do more with less, it says, but only if the industry can overcome current market barriers. The communications company has sponsored a new report called Carbon War Room, which emphasizes the need to overcome obstacles in the way of making the full scalability of these technologies, which can change the way we do business, streamline operations and reduce our environmental impact.

"We've seen the great potential in this technology and made aggressive investments to capitalize on that potential," said John Schulz, director of sustainability at AT&T. "We pursued this work with Carbon War Room to tap into their expertise to understand the relationship between this revenue opportunity and potential environmental benefits. This study looks into ways that we can scale that expected huge adoption curve to achieve the benefits faster."

The report proposes strategies for M2M technologies industry to transform key sectors and reduce greenhouse gas emissions by 9 billion tons. It also identifies the challenges that threaten the industry from reaching its full potential, and offers solutions for overcoming them.

"We aim to identify how major telecommunications companies and others within the 'M2M Value Chain' can work both independently and collaboratively to accelerate the deployment of M2M technologies," said Hilary McMahon, director of research at the Carbon War Room. "Our conclusion is that the industry itself can create the necessary conditions for realizing the great potential for growth and reductions in GHG emissions projected by industry analysts."

In May, global experts will gather in Singapore for the Creating Climate Wealth Workshop, where they will explore ways to scale M2M. The event is organized by Carbon War Room and THNK.

Image credit: Carbon War Room
magdaline 01pm March 07


GREETING, magdaline_buba@yahoo.com Hello my dear friend i am Miss magdaline, how are you?please my dear i know you may be surprise,i want ...