Reynard Loki is a Justmeans staff writer for Sustainable Finance and Corporate Social Responsibility. A co-founder of MomenTech, a New York-based experimental production studio, he writes the blog 13.7 Billion Years and is a contributing author to "Biomes and Ecosystems," a comprehensive reference encyclopedia of the Earth's key biological and geographic classifications, published in 201...
Partners in Clime: Public Sector Support for Private Equity and Venture Capital Climate Solutions in Emerging Markets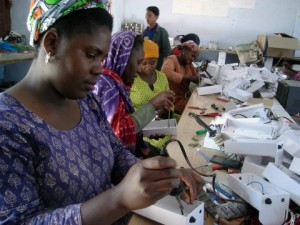 "Leaders of emerging economies must ensure that they are able to attract high-quality, sustainable investment." -- Tony Blair, November 28, 2011[1]

Public/private partnerships are a key factor in moving nations to low carbon economies. The World Bank estimates that a total investment of USD 4.6 trillion is needed to prevent a 2-degree Celsius rise in global surface temperature by the end of the century, a staggering amount that requires the participation of both governments and the private sector. Sounding a clarion call on this critical issue, the International Finance Corporation (IFC) -- the private sector subsidiary of the World Bank -- is calling for public sector support for private equity/venture capital (PE/VC) funds for climate projects in emerging markets.

CALLING IFIs and BILATERAL DONORS

According to a recently released IFC report entitled Public PrivatEquity Partnerships: Accelerating the Growth of Climate Related Private Equity Investment, PE/VC is "uniquely suited" to finance investments that are "risky, innovative, and relatively small," characteristics that the IFC says will exemplify many future climate-friendly projects.[2]

Produced in collaboration with Japan, Great Britain and the Global Environment Facility (GEF), a coalition of 182 member governments in partnership with the private sector, civil society organizations (CSOs) and international bodies like the United Nations Development Programme (UNDP) and the United Nations Environment Programme (UNEP), the report identifies two public sector actors -- International Financial Institutions (IFIs) and bilateral donors -- as having the resources to support the development of PE/VC funds.

These bodies can anchor new funds (i.e., giving a fund credibility by committing kick-start capital), finance new fund development (e.g., set-up costs, securing investor commitments) and invest in new funds through "waterfall structures" in which IFIs can -- instead of sharing profits and losses equally -- subordinate their returns to private investors to diminish those investors' losses in case the fund does poorly or create upside leverage if the fund does well.

S&P/IFCI CARBON EFFICIENT INDEX

The IFC estimates that USD 300 billion of emerging market investment capital is attached to sustainability and ESG commitments. But while that sounds like a lot, it still only accounts for just 10 percent of total investments in emerging markets. There is still a long way to go.[3]

For its part, the IFC has a stated objective to "develop the market infrastructure to support the growth of sustainable investment in emerging markets."[4] In 2009, for example, the IFC launched the S&P/IFCI Carbon Efficient Index, which measures the performance of emerging market companies with relatively low carbon emissions. The index ranks firms within their respective Global Industry Classification Standard (GICS) sector, using carbon efficiency and carbon footprint metrics, while tracking the returns of the S&P/IFCI LargeMidCap Index.[5]

PE/VC CLIMATE SOLUTIONS: A KEY NICHE IN A GROWTH MARKET

"Over 80% of asset owners and asset managers believe that social and environmental issues will grow in importance over the next three years," according to the IFC.[6]

And while PE/VC can be a powerful tool to spur on innovative solutions to the climate crisis, it is just a small part of the larger public/private financing solution. The IFC says that PE/VC will "certainly not provide more than a fraction" of the world's total climate investment, "but they fill a key niche."

IFC Environment and Social Development Director Greg Radford said that "the factoring in of ESG issues in investment decisions for emerging market equities is continuing to make inroads into mainstream investment practices, despite the financial crisis."[7]

As the United States continues to struggle through a flagging economy and the euro zone attempts to quell the sovereign debt crisis, emerging markets are emerging as an alternative, and in many ways ideal, economic space for exploring innovative financial mechanisms to solve another crisis: climate change.

###
NOTES
[1]
http://www.tonyblairoffice.org/africa/news-entry/tony-blair-ending-global-aid-in-a-generation/
[2]
http://www.ifc.org/ifcext/sustainability.nsf/Content/Publications_Report_PublicPrivateEquity
[3]
http://www.ifc.org/ifcext/sustainability.nsf/Content/SustainableInvesting
[4]
http://www.ifc.org/ifcext/sustainability.nsf/Content/SustainableInvesting_ProjectExamples
[5]
http://www.ifc.org/ifcext/sustainability.nsf/AttachmentsByTitle/p_CarbonEfficientIndex-Factsheet/$FILE/Factsheet_SP_IFCI_Carbon_Efficient_Index.pdf
[6]
Ibid
., 3.
[7]
http://www.ifc.org/ifcext/sustainability.nsf/AttachmentsByTitle/p_SI-EmergingMarkets/$FILE/Sustainable+Investing+in+Emerging+Markets.pdf
image: Women from Afghanistan, Bolivia, Cameroon, Mail, Sierra Leone and Gambia training to become barefoot solar engineers in Tilonia, home of the Barefoot College in India. After 6 months training in India, they will return to their home countries and solar-electrify their own communities. (credit: Barefoot Photographers of Tilonia, Flickr Creative Commons)