Reynard Loki is a Justmeans staff writer for Sustainable Finance and Corporate Social Responsibility. A co-founder of MomenTech, a New York-based experimental production studio, he writes the blog 13.7 Billion Years and is a contributing author to "Biomes and Ecosystems," a comprehensive reference encyclopedia of the Earth's key biological and geographic classifications, published in 201...
Planting the Seeds of Sustainability: The Future of Cotton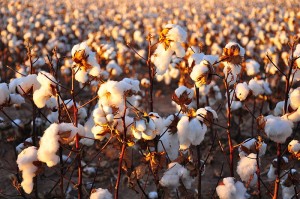 "Clothes make the man. Naked people have little or no influence on society." -- Mark Twain

Over 7,000 years ago, somewhere along the fertile, lake-fed Kachi plain in what is now Balochistan, Pakistan, neolithic farmers first started cultivating cotton. Since then, the soft, fluffy white fiber—almost 100 percent pure cellulose—has maintained a prominent place in the history of mankind. Prized for its convertibility into a strong, flexible and breathable fabric, it has even played an important role in ancient military conquest: After Alexander the Great invaded India, his troops started wearing clothes made out of cotton—much more comfortable than the wool to which they were accustomed. In fact, the word "cotton" comes from the Arabic word qutton, meaning "plant found in conquered lands."

Today, crops of this conquered plant—various species of the prehistoric Gossypium genus—take up 2.5 percent of the Earth's arable land. Some 25 million tonnes of it are produced worldwide every year, with China being the largest producer and the United States being the largest exporter.[1]

SPINNING A GREEN YARN: ETHICAL FASHION

While it may no longer be a spoil of military conquest, cotton is increasingly becoming a focus of sustainable agriculture, due in no small part to the fact that it is the world's most popular natural fiber, cultivated in about 80 countries around the globe. In addition, some 10 million small farmers in West and Central Africa depend on it for their income. To be sure, a sustainable future must integrate the sustainable growth of this essential angiosperm.[2]

Earlier this month, cotton was front and center at the Second Ethical Fashion Show Berlin, an international gathering of sustainable fashion industry professionals in the German capital that served as a powerful reminder that green fashion is not only a rapidly growing market, but that—as the event's organizers noted—"urban lifestyle and a feeling for fashionable and tasteful design can be combined with high ecological and ethical standards."[3]

STYLE AND SUSTAINABILITY: THE FUTURE OF COTTON

As a part of the event, Initiatives for Sustainable Cotton (in German, "Initiativen für nachhaltige Baumwolle," or INBW)—an initiative launched to highlight the importance of sustainably-produced cotton products and sponsored by the German Federal Ministry for Economic Cooperation and Development (BMZ)—presented a look ahead with a July 5th event entitled, "Change Your Cotton."[4]

Featuring a keynote address by BMZ Parliamentary State Secretary Gudrun Kopp, the program included speakers who presented a variety of alternative future scenarios, some of which were developed at the "Visioning Workshop," which the INBW held in cooperation with Britain's Forum for the Future Institute. Alexa Schubert from the Forum and Tina Stridde of INBW delivered a presentation entitled, "Common Vision for a Sustainable Cotton Industry and Other Findings," while Martyn Bowen, general manager of PUMA Austria, presented a talk entitled, "Designing the Future: Sustainable Growth."

Finally, an overview of INBW was co-presented by Dieter Overath, CEO or TransFair e.V. (Fairtrade Deutschland), and Dr. Johannes Merck, CEO of the Aid by Trade Foundation (ABTF), a Hamburg-based organization launched in 2005 to improve the lives in and protect of the environment of developing nations. The foundation's initial focus has been on Africa, through the sustainable application of market forces and sales throughout Europe and the United States. Its main thrust in recent years has been on developing the initiative and brand, "Cotton made in Africa" (CmiA).[5]

AFRICA RISING: SMALL-SCALE CROP ROTATION VS. BIG AG MONOCULTURE

"During the past decade, cotton prices remained considerably below other agricultural prices (although they recovered toward the end of 2010)," writes John Baffes in "Cotton, Biotechnology, and Economic Development," a World Bank policy research working paper. "Yet, between 2000-04 and 2005-09 world cotton production increased 13 percent." Baffes, a senior economist with the World Bank's Development Prospects Group, argues that cotton supplies in China and India have increased due to "biotechnology-induced productivity improvements…which, in addition to keeping cotton prices low, aided these countries to capture market share from (and cause losses to) non-users of biotechnology." He adds, "Africa has not adopted biotechnology and, not coincidentally, its cotton output declined by more than 20 percent between the first and second half of the past decade."[6]

But the fact that African cotton growers generally lack access to the latest advances in biotechnology means that they are in fact be closer to traditional (read: natural, artisanal, small-scale, organic, sustainable, green) farming methods than their more technologically modern rivals on other continents—and that means a direct line to the world's growing legion of ethical consumers. As market consultant Ellen Pay puts it in "The Market for Organic and Fair-Trade Cotton Fibre and Cotton Fibre Products," a study she prepared for the Food & Agriculture Organization of the United Nations (FAO) in 2009, "There is a real potential for African cotton, which uses less chemical inputs than American, European or Chinese cotton, and provides a livelihood for millions of farmers in West and Central Africa, to benefit from the interest of both industry and consumers in organic and fair-trade cotton."[7]

"In many parts of the world, cotton is grown in large plantations, but in Africa it is almost exclusively grown by smallholder farmers, using crop rotation," according to ABTF. "In other words the cotton is grown alternately with other crops such as the basic food crops maize, soy or groundnuts. That reduces leaching of soils and the occurrence of pests."[8] This is an example of how the tried and true often has the edge over the new-fangled: Crop rotation works just as well as it did when it was first used, perhaps as far back as ancient Rome. Indeed, Big Ag monoculture throughout the OECD nations has been a prime ecosystem destroyer.

ONE MISSION, MULTIPLE BENEFITS

In an excellent video posted on YouTube, a narrator explains the mission of ABTF's CmiA initiative: "To promote the sustainable cultivation as well as sales of African cotton, thereby improving the living conditions of these small-scale farmers."

According to the ABTF website:

"Cotton made in Africa works on the principles of a social business. That means the initiative operates in accordance with sound business methods, except that it does not aim to maximise the profits of individuals, but rather to improve the conditions of life of a large number of African cotton farmers. In order to do that, it is building an alliance of international retail companies, which have targeted demand in the global market for sustainably produced cotton, and use this material in their products. Cotton made in Africa acts in accordance with the rules of the market, avoiding subsidies or interventions in the system of world market prices, which are dependent on supply and demand as are the prices of practically all raw materials."[9]
THINKING OUT OF THE SUIT
Through their CmiA initiative, ABTF has linked up with TransFair e.V., which works to establish and promote fair-trade standards for farmers and workers that "allows them the opportunity to improve their lives and plan for their future" while offering consumers "a powerful way to reduce poverty through their every day shopping."[10]
Together, ABTF, Transfair and other "partners active in the field of organic cotton production have joined forces with the goal of anchoring the subject of sustainable cotton in the public mind…and mak[ing] the fashion sector, the textile industry, the political world and consumers more aware of this subject," according to an Ethical Fashion Show Berlin press release.[11]
Awareness of fashion, sustainable or otherwise, can have profound effects on a personal level. "Clothing affects how other people perceive us as well as how we think about ourselves," said Adam D. Galinsky, a professor at the Kellogg School of Management at Northwestern University, who led a recent study on the effects of clothing on cognitive processes.[12] In the study, published online by the
Journal of Experimental Social Psychology
in February, Galinsky and Hajo Adam, a visiting assistant professor at Kellogg, investigated both the symbolic meaning of clothes as well as the physical experience of wearing them; specifically, "how clothes systematically influence wearers' psychological processes."[13]
THE REAL WEALTH OF NATIONS
So, the next time you're out shopping for a new suit or skirt or pair of shoes, consider fashions with the "Cotton made in Africa" label. Indeed, while people may compliment the cut of your (fair-trade, organic, sustainably-sourced cotton textile) jib, you'll also have the added benefit of knowing that you've helped make a positive difference in the life of an African cotton farmer who's using environmentally-friendly methods to grow a plant that has clothed mankind since the 5th millennium BCE.
As we look towards a more sustainable future, in addition to considering Twain's contention that "clothes make the man," we must also consider the man who makes the clothes—and how he makes them. After all, as the late 18th-century American poet Richard Hovey keenly observed, "The wealth of nations is men, not silk and cotton and gold."
###
NOTES
[1] Food and Agriculture Organization of the United Nations.
Natural fibres - cotton
. International Year of Natural Fibres. April 9, 2009. Accessed July 13, 2012.
[2]
Ibid
.
[3] Ethical Fashion Show.
Berlin Fashion Week: Ethical Fashion Show Berlin at the 'ewerk'
. April 27, 2012. Accessed July 13, 2012.
[4] Aid By Trade Foundation.
One Common Vision for a Sustainable Cotton Industry
. June 27, 2012. Accessed July 13, 2012.
[5] Aid By Trade Foundation.
Cotton Made in Africa - Aid By Trade Foundation
. March 11, 2011. Accessed July 13, 2012.
[6] John Baffes.
Cotton, Biotechnology, and Economic Development
. Policy Research Working Paper. World Bank. December 2011. Accessed July 13, 2012.
[7] Ellen Pay.
The Market for Organic and Fair-Trade Cotton Fibre and Cotton Fibre Products
. Food & Agriculture Organization of the United Nations. p. 13. November 10, 2009. Accessed July 13, 2012.
[8] Aid By Trade Foundation.
Cotton growing - African cotton
. March 2, 2011. Accessed July 13, 2012.
[9] Aid By Trade Foundation.
Cotton made in Africa - What we stand for
. April 26, 2011. Accessed July 13, 2012.
[10] Fairtrade Deutschland.
About Fairtrade
. May 12, 2009. Accessed July 13, 2012.
[11] Ethical Fashion Show Berlin.
Green fashions gaining ground - Ethical Fashion Show Berlin bigger and more international than ever before
. June 6, 2012. Accessed July 13, 2012.
[12] Sandra Blakeslee.
Mind Games: Sometimes a White Coat Isn't Just a White Coat
.
The New York Times
. April 2, 2012. Accessed July 13, 2012.
[13] Adam D. Galinsky and Hajo Adam.
Enclothed Cognitiion
.
Journal of Experimental Social Psychology
. ScienceDirect.com. February 12, 2012. Accessed July 13, 2012.
image: cotton field (credit: Kimberly Vardeman, Wikimedia Commons)