Harry Stevens is a freelance reporter covering climate change, corporate social responsibility, social enterprise, and sustainable finance. Harry has contributed to several media outlets, including Justmeans, GreenBiz, SocialEarth, and Sustainablog. You can follow Harry on Twitter: @Harry_Stevens...
Santander Brasil Tops Newsweek's Global Green Rankings; IBM Leads U.S.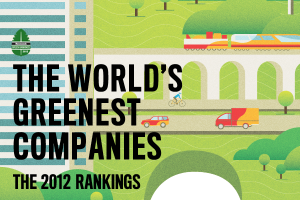 Newsweek's 2012 Green Rankings were published today online. The rankings assess and rank the environmental performance of the largest publicly traded companies in the U.S. and around the world.

Topping the global list this year is Banco Santander Brasil (NYSE:BSBR), earning a "Green Score" of 85.7 from Newsweek. In 2011, Santander Brasil recycled 260 tons of paper, reduced consumption of energy and water across its branches and administrative buildings, and employed sustainable building techniques as it opened 154 new branches.

2012 marks the first year that the top three rankings are occupied by companies from emerging markets. India-based IT company Wipro (NYSE:WIT) ranks second, and Banco Bradesco (NYSE:BBDO), another Brazil-based bank, comes in third.

"It is very encouraging to see enhanced disclosure and environmental leadership coming from emerging markets," said Heather Lang, Director of Research Products, North America for Sustainalytics. Disclosure by emerging markets companies increased by approximately 8% since 2011, which reflects a promising shift towards environmental transparency in countries like Brazil, India, and South Korea.

The trend towards more environmental disclosure has not been confined to emerging markets. Worldwide, 85% of companies in the Green Rankings now disclose at least some information about their environmental performance, representing a 20% improvement from 2011.

"Since the launch of Newsweek's Green Rankings in 2009 we have had thousands of conversations with companies seeking to provide information about their environmental performance," said Dr. James Salo, Senior Vice President of Strategy and Research at Trucost. "By improving the transparency on their environmental performance, companies are becoming more responsible for its improvement. This is an important step towards reducing environmental impact and risk."

Topping the U.S. list is IT giant IBM (NYSE:IBM), receiving a "Green Score" of 82.9. IBM, which issued its first corporate policy on environmental affairs in 1971, has long been a corporate leader on environmental issues. IBM has issued a Corporate Responsibility report since 2002 and has recently pioneered the development of green data centers.

This year, IBM was recognized by the U.S. Environmental Protection Agency, the Center for Climate and Energy Solutions, the Climate Registry, and the Association of Climate Change Officers for its organizational leadership in addressing climate change.

Apple (NASDAQ:AAPL) suffered the largest drop in the U.S. rankings, falling from 50th in 2011 to 118th this year. The company was penalized for its resistance to participate in the Carbon Disclosure Project's public reporting scheme for the second straight year.

Apple's poor environmental disclosure makes it a relative outlier among the technology sectors (Information Technology & Services, and Technology Equipment), which were the highest ranking sectors on both the U.S. and Global lists.

Newsweek produces the Green Rankings with research partners Trucost and Sustainalytics using a methodology that considers a company's environmental impact, environmental management, and disclosure.

The Green Rankings assess companies from the U.S. 500 and the Global 500 lists, so privately owned companies are not considered. The list also excludes small and medium-sized companies, which have been notably less inclined to produce environmental disclosure reports than larger, more visible companies.

This is the first year that the Newsweek rankings include 20 unique industry pages, highlighting strengths and weaknesses across each industry.