Ano is a Justmeans staff writer for health, and an instructional designer for the newly created Master of Health Care Delivery program (mhcds.dartmouth.edu) at Dartmouth College. Ano brings over a decade of evidenced-based health research and writing, and a Masters of Public Health from Dartmouth Medical School to the Justmeans Editorial section. Special interests include health policy, conflict ...
Smart health care=Innovation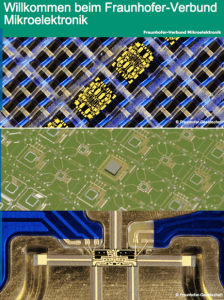 Basic sciences are increasingly being applied in innovative ways to address some fundamental health care problems. Applied chemistry has combined paraffin and dye to potentially double the effectiveness of blood tests used outside the clinic. Improving the accuracy of home-based health tests has benefits beyond the obvious improvements in accuracy: When appropriately used they also reduce demand on health care resources by potentially keeping people away from unnecessary clinical encounters, and by bringing the test to the person they are the embodiment of patient-centered care. Those are fundamental attributes of better health care delivery.

Wouldn't it be great to apply such basic sciences to develop, say, a band-aid that can tell you when the wound its protecting has become infected? Researchers at Germany's Fraunhofer Research Institution for Modular Solid State Technologies (EMFT) are applying basic chemistry to the seemingly low-tech world of wound dressings to do just that. Healthy healing skin and wounds generally have a ph below 5. Infections generally ramp that ph up to 6.5 to 8.5. So EMFT scientists have developed a smart-dressing that changes color from yellow to purple when wound ph changes, indicating a possible infection.

Does your dressing look like this?: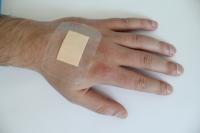 ........Then you're OK. But when it changes to this: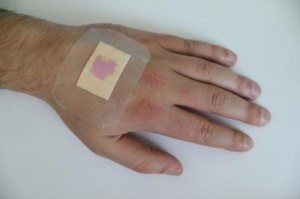 ..................................You'd better check for infection. This isn't your grandparent's boo-boo soothing Band-Aid, folks.

While many high tech health innovations involving software, social media, crowd sourcing or smart phone apps are making big splashes these days, its also nice to see that folks aren't forgetting that most health care encounters depend on lots of far more basic tools and materials whose potential for improvement shouldn't be ignored.