Jason is a staff writer for the Social Media category of Justmeans. Along with being a professional freelance blogger and community manager, Jason is also the social media account manager for Sparkplug Digital, an internet marketing firm based out of Seattle WA. He believes in honest community building and using the social web for branding, marketing, public relations and as a forum to bring aware...
Social Media Events: Small Business Saturday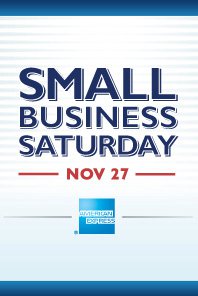 Move over black friday and cyber monday, Small Business Saturday is a social media event to get excited about. The first annual Small Business Saturday takes place this Saturday (the 27th) and as the name suggests, it's entirely focused on helping the little guys. Small Business Saturday is being fueled by an aggressive Facebook campaign and was put in motion by American Express Open. The Small Business Saturday Facebook page has already collected over one million likes.

The Small Business Saturday website stresses why this social media event will be unlike any other. Facts are brought up such as:

"For every $100 spent, $68 goes back into the local community."

"Small business employs half of all the private sector employees."

"Small business represents 99.7% of all employer firms."

"For every year over the last decade, 60-80% of new jobs were generated by small business."

To help support Small Business Saturday, shoppers are encouraged to spend less time (and dollars) with online and big store retailers and spend more money in their local community. One way to support Small Business Saturday is by "liking" their page on Facebook to help spread awareness. Small business owners can help by taking part in the campaign. Businesses that register will receive $100 worth of complimentary Facebook ad credit to create some attention for their business. Shoppers that have an American Express card can receive $25 back in credit when they spend $25 with a local business. It's set up to be a win win for both small business and American consumers.

On the Small Business Saturday Facebook page, fans can give a shout out to their favorite business and share their stories with businesses that are participating. There is also a specific section dedicated to business owners that provides free advertising resources. Business owners can receive a badge to place on their website or download print materials for their physical location. American Express also provides social media tips for building a brand on Facebook and includes a free social media insight guide.

What's most impressive about Small Business Saturday is that it's an extremely popular campaign that has launched with very little support outside of Facebook. It's a hit with small business owners and shoppers. The Small Business Saturday Facebook page is growing at a rapid rate. It's impressive for a campaign that's only been around for a short amount of time. If 2010 is any indication of the future, both large companies and small businesses will continue to promote social media events through Facebook. Do to the fact that Facebook is the largest social network in the world and the capabilities of Facebook's open graph, the possibilities for viral traction are large when a marketing campaign is executed correctly. It'll be interesting to see if Small Business Saturday is the start of a yearly tradition.