Reynard Loki is a Justmeans staff writer for Sustainable Finance and Corporate Social Responsibility. A co-founder of MomenTech, a New York-based experimental production studio, he writes the blog 13.7 Billion Years and is a contributing author to "Biomes and Ecosystems," a comprehensive reference encyclopedia of the Earth's key biological and geographic classifications, published in 201...
World's Carbon Concentration Highest in Last 800,000 Years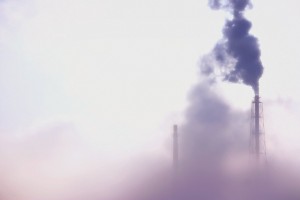 "For the first time we have made no improvement in our rate of decarbonization. We have in fact increased the carbon intensity of growth." -- State of Green Business Report 2012[1]

Last month, the Global Carbon Project released their 2010 Carbon Budget report, which found that fossil fuel CO2 emissions increased by 5.9 percent in 2010, representing not only a 49 percent jump from levels in 1990, the Kyoto reference year, but the highest emissions in human history. The report grimly notes, "The present concentration is the highest during at least the last 800,000 years." That was right around the time humans figured out how to make fire. Since we started emitting carbon into the atmosphere, it's only gotten worse.[2]

THE STATE OF GREEN BUSINESS

China is the world's biggest emitter of CO2, having overtaken the United States for the top spot in 2007 and representing almost a quarter of the total global emissions. The US is still number two, pumping out over 18 percent of the world total.[3] And taking a look at the GreenBiz Group's fifth annual State of Green Business report, which was released this week, it doesn't seem like the nation will be losing the number two spot any time soon.

The 84-page report, which frames the 2012 GreenBiz Forums, a series of one-day events taking place this month in Minneapolis, New York and San Francisco, looks at the performance of American companies in an attempt to answer the question, "Are we bringing a green economy into being?" And the answer is, "Not so much." Sustainable business is in a bit of funk, and much of it is tied to the recession and the tentative recovery from the financial crisis.

ECONOMIC REALITIES STALL ENVIRONMENTAL PROGRESS

While the authors see "growing corporate sustainability commitments," they also note that the progress found in their 2011 and 2010 reports was "lagging indicators based on work done with pre-recesionary budgets. As the economic realities have set in, environmental progress has stagnated, or worse."[4]

According to the report, there's still too much e-waste, there's a slow-down in LEED registrations, the use of paper climbed for the first time since 2004, toxic emissions experienced a "huge spike after years of positive decline," and "after years of minimal, but steady, decline," emissions of bioaccumulative and toxic chemicals from manufacturing experienced a staggering 80 percent increase. The report also found that the push towards a green economy has in many ways stagnated, with cleantech sustaining a "mild hit" from the weak economy, the rate of corporate disclosure on environmental impacts remaining flat and investments in energy efficiency waning, pushing up energy waste.[5]

GOING BACKWARDS: GLOBAL ECONOMY MORE CARBON INTENSIVE

But perhaps the worst thing the report found is that carbon emissions are growing faster than the economy, "making the global economy more carbon intensive." The authors warn, "If the United States isn't able to grow its economy without increasing carbon intensity, then stopping global warming at 2 degrees per year -- which scientists say would require a drop in emissions of 25 percent below 1990 levels by 2020 -- is an unreachable goal."[6]

To be sure, our success in mitigating and adapting to climate change is largely tied to our economy, but financing a sustainable future requires political will. The GreenBiz report asserts that "[t]he future largely depends on two key drivers: the ability and desire of governments to commit to emissions reductions, and the scaling up of renewable energy technologies."[7] Considering that renewable energy represents a mere five percent of the nation's energy portfolio and that the United States is historically reticent to sign any international treaty mandating reductions in greenhouse gas emissions, a green future is anything but certain.

###
NOTES
[1] GreenBiz.
State of Green Business 2012
. January 18, 2012
[2] Global Carbon Project.
Carbon Budget 2010
. December 2010.
[3] Millennium Development Goals Indicators.
Carbon dioxide emissions (CO2), thousand metric tons of CO2 (CDIAC)
. United Nations.
[4]
Ibid
.
[5]
Ibid
.
[6]
Ibid
.
[7]
Ibid
.
image: papadont (
Flickr Creative Commons
)