Nick is a Justmeans staff writer for the Climate Change and Energy & Emissions categories, with a background working on climate and energy issues both on the ground and online. Nick is particularly interested in the interplay between the written word and the creation of on-the-ground change, which he examined in-depth in his senior thesis while at Pacific University. Since graduating from col...
Youth Voters Bring Support for Clean Air Act to DC
This morning youth organizers in Washington, DC set up under canopies in the rain to send federal decision makers a message: young voters support using the Clean Air Act's full authority to reduce carbon energy and emissions and transition the US to a cleaner, healthier future. To show they have backing from students all over the country, these activists are displaying thousands of hand-made pinwheels mailed to DC from more than fifty schools across the nation. Each pinwheel represents a student voice calling for the United States to move beyond coal and other fossil fuels and shift to a low-carbon economy.

During the month of November, students at college campuses from Virginia to Iowa to Oregon worked to educate their peers about the impacts of dirty energy and emissions. Students participating in events were asked to make a paper pinwheel, in some cases artistically decorated or inscribed with a message for federal officials. These pinwheels of course are meant to call to mind wind turbines—perhaps the most visible symbol of renewable energy in the United States today. Once completed, the pinwheels were mailed to the nation's Capitol for Sierra Student Coalition organizers to use for today's big action.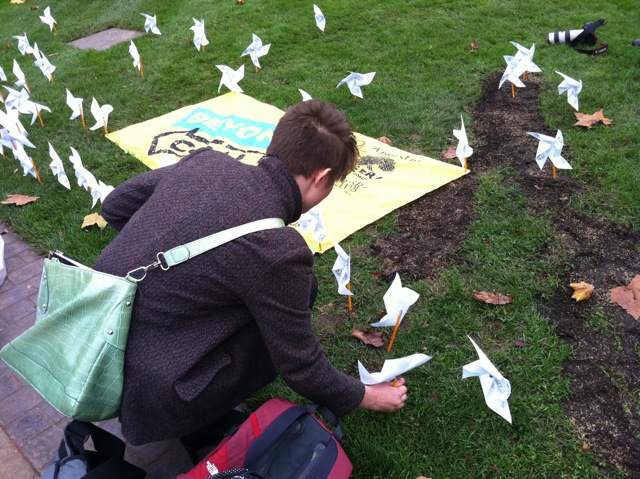 With yesterday's weather forecasts predicting torrential downpours, students in DC prepared to get rained on while bringing their message to policymakers. "I'm pretty excited," said Talya Tavor, a student at Michigan State University, soon after helping set up a pinwheel display outside Environmental Protection Agency offices. "We've got paper pinwheels that were handmade by students across the country on display to demonstrate the clean energy solutions youth are demanding." This afternoon, students are going to Capitol Hill to meet with members of Congress and deliver batches of pinwheels to their offices.

Will delivering thousands of pinwheels to Congress change US energy and emissions policy overnight? Of course not—but that isn't the point of this project. As with other creative actions like the global eARTh project, this National Action for a Clean Energy Future is about shining a spotlight on the public support that exists for enforcing the Clean Air Act. Today's action in DC will give members of Congress something they can hold in their hand: a paper pinwheel made with care by a student from their district who wants to see clean energy solution supported.

This couldn't be happening at a better time. Though the Clean Air Act and other laws have prevented hundreds of thousands of deaths and illnesses in the United States, we still have a long way to go. For the first time in almost ten years the Environmental Protection Agency, headed by Lisa P. Jackson, is acting to update clean air standards and make pollution rules consistent with the latest scientific data. Next month the agency will be moving to regulate greenhouse gases for the first time in US history.

Yet the dirty energy and emissions industries, and their allies in Congress, are trying to make the new standards as weak as possible. Conservative lawmakers—mostly Republicans but some Democrats as well—are already attempting to curtail the EPA's authority to protect public health. In the face of politically motivated attacks on clean air and water, ordinary voters need to let it be known that public health and the environment are as important as ever. Whether you're a student, a clean energy innovator, or one of the many small business owners who see benefits in the Clean Air Act, it's a great time to express your views to the EPA.

That's what thousands of students all over the country have been doing in the last month by making pinwheels to send to the Capitol. "Our generation was lucky enough to grow up with the EPA, the Clean Air Act, the Clean Water Act and other federal environmental policies," said Kim Teplitzky, Beyond Coal Campaign Representative for the Sierra Student Coalition. "We must ensure we maintain these critical protections for the health and prosperity of our and future generations."

Photo credit: Kim Teplitzky, Casey Gifford