"Fair trade is a blessing."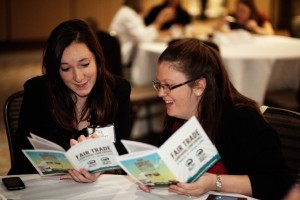 Felipe, a banana producer from Colombia who works with
both Fairtrade International (FLO) and Fair Trade USA.
Finally. The fair trade movement united. Hosted by Fair Trade Towns USA and underwritten by Fair Trade USA, students, community organizers and activists gathered in Chicago the last weekend of October to celebrate National Fair Trade Month. After such heated tensions earlier this year, I wanted to see collaboration in the movement firsthand. And collaboration was exactly what I saw. A diverse representation of fair trade movers and shakers were present including FLO Canada, Equal Exchange, the Fair Trade Federation and Catholic Relief Services. In the past, these voices have clashed with Fair Trade USA in regards to innovation and implementation in the movement. But at this conference, conversation was anything but political. It was all about learning to be a blessing to the farmers.
As part of the Fair Trade University and Fair Trade Towns campaigns, dozens of student and city leaders came to share their experience in their push for their campus or community to earn the title as a "Fair Trade University" or "Fair Trade Town." The Fair Trade Towns USA (in partnership with Fair Trade USA) campaign is based on principles and guidelines set forth by Fairtrade Towns (in partnership with FLO) in the U.K., where the first Fair Trade Town, Garstang, Lancashire, was recognized in 2000 (fairtradeusa.org). There are currently 30 official Fair Trade Towns including San Francisco, Boston, Media, PA, Winter Park, FL and Madison, WI and 12 Fair Trade Universities such as Siena's College, University of California San Diego, Manhattan College and Penn State Brandywine.
"Fair trade bit me, "said Joan Harper from a group of organizers with Fair Trade LA. "It's so practical." Harper humorously described how organizing in Los Angeles began. "In 2005 I found myself sitting at my kitchen table with a Jew, an Atheist and three Catholics talking about small farmers and how we could support them." After a trip to India, Harper experienced the impact of fair trade on the lives of women who had previously worked in the red light district:
"Fair trade changed their lives. Their sisters don't have to work in prostitution. They tell us- tell your friends so we can hire more women and pull them out of prostitution."
A group of student organizers from Keene State College have paved the way on their campus for fair trade. They have taken great initiative to tie fair trade into campus and community events. For example, during Keene's annual Pumpkin Fest, the students hosted a fair trade coffee bean "corn hole" game. They have also engaged with their campus food service provider, requesting fair trade options such as coffee and bananas. Many of the colleges who attended are pushing for fair trade chocolate, bananas and uniform programs across their campuses. The students at Penn State Brandywine, who became an official Fair Trade University on May 12th, recognized that supply chain changes on a college campus must be a holistic, institutional change.
"It was really important for professors to begin teaching about fair trade. We pushed for fair trade to be incorporated into environmental classes," a student leader, Sarah Demartino said.
The same collaborative approach has been proved effective in community advocacy. During a session on effective campaigning, Courtney Lang, National Organizer of Fair Trade Towns USA, reminded organizers to partner with, not become the adversary of local businesses.
"By pointing out what local stores and grocers are already doing well and using appreciative inquiry you are building partnership. Then you can help educate them about the reasons for the difference in price between the $3/lb. apples from Washington State and the $.55/lb. bananas from Costa Rica."
The conference ended on a high note as we heard from a panel of fair trade producers. They spoke about their day to day lives and their appreciation for fair trade. When posed with a question about the impact on producers because of the split between Fair Trade USA and FLO, Felipe (quoted above) galvanized the audience with this statement:
"The different approaches are good for us. It provides competition for us, for my country. It's very good we have the demand. Both groups are doing good for people. I don't know if there will be a problem, but for now I see it as an opportunity for more people to become conscious about the importance of fair trade."
Collaboration is happening in the movement and I was inspired to see it firsthand. As long we continue to link arms and stand together in our common ground, I believe that fair trade will indeed be a blessing to the farmers it serves. Just as it was intended to be.
Many thanks to everyone who shared their journey with me at this conference.
Special thanks to David Funkhouser.
Photography courtesy of Vishal Kasliwa.