2020 Sustainability Goals Shed Little Light on Companies' Climate Change Progress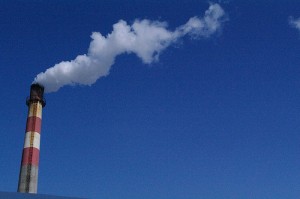 "2020 sustainability goals" seem to be all the rage these days. Last week, Weyerhaeuser became the latest in a seemingly endless procession of companies to tout the "great strides" it's made toward 2020 sustainability goals.
In recent years legions of companies, including Campbell's Soup, Coke, Dean Foods, Intel, Owens Corning, Procter & Gamble, and RockTenn, have announced progress on 2020 sustainability goals.
But what, specifically, are these goals? What kind of sustainability progress are these companies reporting?
Ultimately, while these companies ought to be lauded for committing to long-term sustainability goals, it is difficult to understand whether companies' progress toward their 2020 goals is doing much to slow or reverse anthropogenic climate change.
Scientific consensus asserts that we can dump 565 Gigatons of carbon dioxide into the atmosphere by 2050 before human life on planet Earth becomes untenable. 565 Gigatons seems like an astronomical figure until we consider that, as Bill McKibben puts it in a recent op-ed, "study after study predicts that carbon emissions will keep growing by roughly three percent a year – and at that rate, we'll blow through our 565-gigaton allowance in 16 years, around the time today's preschoolers will be graduating from high school."
In Weyerhaeuser's announcement, the company reports that in 2011 it reduced its greenhouse gas (GHG) emissions by 31 percent compared to 2000 levels, which means they're over three-quarters of the way to reaching their goal of a 40 percent reduction by 2020.
Similarly, Dean Foods is shooting for a 25 percent decrease in GHG emissions by 2020 compared with 2007 levels, and in 2011 managed to reduce GHG emissions by 8.4 percent since that baseline.
Likewise, Campbell's Soup reports that one of their 2020 goals is to cut the environmental footprint of their product portfolio in half, and that they've reduced GHG emissions by 67,831 tonnes since 2008.
The above figures demonstrate the difficulty in determining whether such efforts, combined with the efforts of countless companies, governments, and environmental groups, are sufficient to save us from the more dire scientific prognostications regarding climate change.
One of the more promising approaches to help us understand companies' environmental performance comes in the form of standardized non-financial reporting. Frameworks developed by organizations like the Global Reporting Initiative (GRI) and the Carbon Disclosure Project (CDP) offer guidelines against which companies can report their non-financial progress.
Such frameworks have been put forth so that reporting companies can be easily and meaningfully compared across a variety of data points. This approach helps stakeholders understand whether corporate declarations about "progress toward 2020 sustainability goals" are significant.
Recent years have seen a proliferation of organizations offering non-financial reporting frameworks. Last Friday, the International Integrated Reporting Council (IIRC) announced the appointment of Peter Bakker, President of the World Business Council for Sustainable Development, as a Deputy Chair. Apparently the goal of this appointment is to help build business for support for the IIRC's new framework, which they plan to publish in late 2013.
With so many frameworks from which to choose, companies inevitably report according to different standards, and it remains impossible to determine how companies' sustainability performance compares with their peers.
To rectify this situation, the only solution would seem to be for governments to legally mandate non-financial reporting according to a single standard (financial disclosure according to standardized guidelines has been mandatory for as long as just about anyone can remember.). A Harvard Business School working paper from May, 2012, that uses data from 58 countries confirms that sustainable and ethical business practices improve across the board when mandatory reporting is credibly enforced.
Such findings notwithstanding, it will be at least several years before we see the adoption of meaningful, standardized, mandatory non-financial reporting frameworks by governments. Until then, the best we can do is hope that companies' much announced 2020 sustainability goals are as meaningful as they would have us believe.
Image Credit: CECAR on Flickr