A Soldier's Life: The Trials and Tribulations of Military Personnel in the Financial Marketplace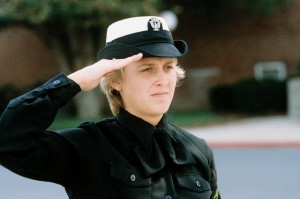 "It often requires more courage to dare to do right than to fear to do wrong." -- President Abraham Lincoln
By years's end, the last American troops will be coming home from their tour of duty in Iraq. The military drawdown in Afghanistan is bringing even more servicemen back to US soil.
In a speech he delivered at Arlington Cemetery on Veteran's Day, President Obama said, "For many military families, this holiday season will be a season of homecomings." Over the next five years, the president noted, "more than one million Americans in uniform will transition back to civilian life." And the vast majority of them are going to be looking for jobs. Mr. Obama ordered the federal government to hire more veterans. He also called on the private sector to recruit them, issuing a challenge to business leaders to "hire 100,000 post-9/11 veterans and their spouses over the next few years."
A DIFFERENT KIND OF ENEMY: PREDATORY LENDERS
But getting the nation's young veterans (the average age is 27) into the workforce, while a major undertaking considering the persistently high jobless rate, is only one piece of the private sector pie that must be considered when it comes to our returning troops. Another is dealing with scam artists. In Iraq, Afghanistan and elsewhere around the world, many brave soldiers have been the target of enemy fire. And when they come home, many become targets of predatory lending.
On November 3rd, Holly Petraeus, Assistant Director of the Office of Servicemember Affairs at the Consumer Financial Protection Bureau testified before the US Senate Committee on Banking, Housing and Urban Affairs about what she called the "devastating impact financial scams and predatory lending can have on servicemembers and their families." One of the tasks of the CFPB is to prevent lenders from taking advantage of consumers, and Ms. Petraeus' role is to focus on safeguarding military personnel and veterans from unethical practices.
TOO MUCH MONTH AND NOT ENOUGH MONEY
She knows firsthand the difficulties that servicemembers and their families face: She is the daughter of a general who served in World War II and Vietnam, the wife of General David Petraeus, who commanded coalition forces in Iraq, and the mother of an Army soldier who served in Afghanistan.
"I have seen the problems that can arise for our servicemembers who may experience 'too much month and not enough money,' she said in her testimony. "Unfortunately there are still too many young troops learning about wise spending through hard experience and years of paying off expensive debt."
THE WAR AGAINST THE WORKING PEOPLE
Between transitioning back into civilian life -- which may entail dealing with a combat-related injury -- looking for work and trying to avoid unethical lenders, our military personnel and veterans have more than their share of hurdles, especially considering their willingness to be put in harm's way.
What many of these young men and women will find when they trade in their fatigues for civilian clothing is a different kind of war, one not fought with guns, but with money and influence. "The war against working people should be understood to be a real war," said Noam Chomsky, specifically in the U.S., which happens to have a highly class-conscious business class...And they have long seen themselves as fighting a bitter class war, except they don't want anybody else to know about it."
BUSINESS LESSONS LEARNED FROM PATRIOTS
In his speech at Arlington, President Obama said, "If there is anything our veterans teach us, it's that there is no threat we cannot meet; there is no challenge we cannot overcome." Another thing that veterans -- and all military personnel -- can teach us civilians is how to not be selfish. All volunteers are driven in part by a selfless commitment to serve, but the willingness to give one's country the greatest sacrifice as part of a call of duty is a selfless commitment of the highest order. In a society where two percent of the population owns half the world's wealth, and where unethical money managers continue to destroy people's lives to satisfy their own greed, that's a lesson that many of the so-called "one percent" can stand to learn.
Explaining his order to the federal government to hire more veterans, Mr. Obama said, "Our government needs their patriotism and sense of duty." Perhaps the financial sector should take an extra careful look at veterans' resumes in their applicant pools. Wall Street could use more of that sense.
As the president duly noted, "These young men and women have shattered the false myth of their generation's apathy, for they came of age in an era when so many institutions failed to live up to their responsibilities." Indeed, banks -- and the agencies that were supposed to regulate them -- can learn a lot from a 27-year-old soldier.
###
NOTES
http://www.whitehouse.gov/the-press-office/2011/11/11/remarks-president-veterans-day
http://www.consumerfinance.gov/speech/testimony-of-hollister-k-petraeus-before-the-senate-committee-on-banking-housing-and-urban-affairs/
http://www.alternet.org/economy/145705/the_richest_1%25_have_captured_america's_wealth_--_what's_it_going_to_take_to_get_it_back?page=1
http://www.commondreams.org/headlines06/1222-04.htm
image: Photographer's Mate Airman Tina Brown salutes during morning colors at the Naval Audiovisual Center, Naval Station Anacostia (Morning Calm News, Flickr Creative Commons)