Air Force: Science and Regulation Dovetail to Give Wind Power a Boost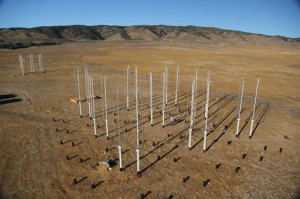 "The global wind power available 30 feet off the ground is greater than the world's electricity usage, several times over." -- John Daibri, California Institute of Technology."
In northern Los Angeles County, there is a two-acre plot of land covered with two dozen wind turbines. But they don't look like the ones that you've most likely seen, the horizontal-axis wind turbines (HAWTs) that resemble giant pinwheels slowly turning, all in the same direction. They are actually the newer and less common veritical-axis wind turbines (VAWTs) that have been described as "eggbeaters sticking out of the ground."
These 10-meter-high kitchen appliance lookalikes are part of the Field Laboratory for Optimized Wind Energy (FLOWE), an experimental wind farm where John Daibri, a professor of aeronautics and bioengineering at the California Institute of Technology, has been figuring out more efficient ways to harness the power of those large masses of air sweeping back and forth across the surface of the Earth.
In a study published in the July issue of the Journal of Renewable and Sustainable Energy, Daibri describes how his team was able to maximize wind collection at least tenfold simply by being more tactical about where to place the turbines — and of course, choosing the right turbine.
A NEW WAY TO HARVEST WIND
Daibri's overall approach, as he writes in his paper, "is fundamentally different from current practices in wind energy harvesting: here, a large number of smaller VAWTs are implemented instead of fewer, large HAWTs. The higher levels of turbulence near the ground — both naturally occurring and induced by the VAWT configuration -- enhance the vertical flux of kinetic energy delivered to the turbines, thereby facilitating their close spacing."
But it's not just about a more efficient wind gathering. Daibri goes on to note that his simple yet novel approach "has the potential to concurrently alleviate many of the practical challenges associated with large HAWTs, such as the cost and logistics of their manufacture, transportation, and installation (e.g., by using less expensive materials and manufacturing processes and by exploiting greater opportunities for mass production); environmental impacts (e.g., bird and bat strikes); acoustic and radar signatures (e.g., lower tip speed ratios than HAWTs); visual signature; and general acceptance by local communities. These issues, although not strictly scientific, limit the further expansion of existing wind energy technology."
Investors engaged in socially responsible investing (SRI) and sustainable investment, and in particular those interested in the future of renewable energy, should look to Daibri's findings with keen interest. But they also have another reason to smile, thanks to a new ruling by America's energy regulator.
WIND POWER IN AMERICA GETS A FEDERAL JUMPSTART
On July 21, the US government gave a boost to America's power infrastructure when the Federal Energy Regulatory Commission (FERC) issued "Order 1000," a new directive for public utility transmission providers that gives sets rules for the financing and planning of high-voltage power lines, giving a green light to increase investments in how the nation's energy is moved and stored.
According to the 614-page docket, the order also aims "to ensure that Commission-jurisdictional services are provided at just and reasonable rates and on a basis that is just and reasonable and not unduly discriminatory or preferential."
"We're hoping it will create jobs and spur investment," said FERC chairman Jon Wellinghoff on the Bloomberg News program Talking Stock. "What we're setting forth is a framework to allow for comprehensive planning and paying for a new transmission investment in this country."
A BREATH OF FRESH AIR FOR THE WIND MARKET
Last year, wind energy represented 11 percent of the renewable energy distribution in the US, ranking fourth behind hydropower (31 percent), biomass wood (25 percent) and biomass biofuels (23 percent). But it is a rapidly growing sector. While Wellinghoff conceded that there are specific challenges to plugging variable energy resources like wind and solar into the national grid, he also noted that the North American Electric Reliability Corporation (NERC) estimates that "over the next 10 years, 60 percent of our new energy that will go into the grid will come from these variable resources."
"For the wind marketplace, the order allows developers to move ahead knowing that FERC has set a priority for clean-energy projects," said Gerald Schulz, vice president of electrical engineering for Michels Corp., a transmission contractor based in Brownsville, Wisconsin. "It really gives us confidence that we can move ahead in terms of economics and spend money."
HUNDREDS OF THOUSANDS OF JOBS
"Wind power has the potential to provide a much larger share of our electricity and create hundreds of thousands of jobs," said US energy secretary Steven Chu, in a statement applauding the commissioning of new wind turbines by the Consortium for Wind Energy Research, Education, and Workforce Development, led by the Illinois Institute of Technology.
Nodding to the market forces of the private sector and the importance of sustainable investment in cleantech, Secretary Chu said that projects like this "will help ensure that America has both the talent and the technology we need to compete in the clean energy economy. As the global wind power market expands, efforts such as these will support the long-term development of a clean energy workforce in order to achieve the Administration's goal of generating 80 percent of our nation's electricity from clean resources by 2035."
Money may not grow on trees, but perhaps it's blowin' in the wind. Thanks to innovations like Daibri's VAWTs at FLOWE and investment-spurring regulations from FERC, the forecast for wind power in America is looking positively breezy.
###
NOTES
http://www.sciencedaily.com/releases/2011/07/110713092153.htm
Ibid.
http://arxiv.org/pdf/1010.3656
Ibid.
http://www.ferc.gov/whats-new/comm-meet/2011/072111/E-6.pdf
http://www.youtube.com/watch?v=vTU_3z9Ev_E
http://www.instituteforenergyresearch.org/energy-overview/renewable-energy/
Ibid., 6.
http://enr.construction.com/infrastructure/power_industrial/2011/0816-windsolarbackershopefercsorder1000willspurdevelopment.asp
http://apps1.eere.energy.gov/news/news_detail.cfm/news_id=17582
Ibid.
image: Vertical-axis wind turbines (VAWTs) at the Field Laboratory for Optimized Wind Energy (FLOWE) facility in northern Los Angeles County. (credit: John O. Daibri, California Institute of Technology)