Amy Winehouse's Family Turn Her Legacy Into a Socially Responsible Project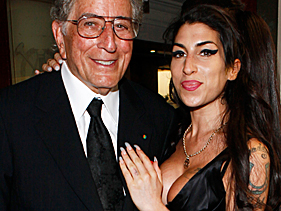 The death of British soul singer Amy Winehouse, who became an international superstar with her album Back to Black in 2006, sent shockwaves across the world. Her drug and alcohol addiction were constanly documented by the media and paparazzi, who snapped her increasingly bizarre antics in front of the cameras. The world watched as her dwindling figure signalled that her health was deteriorating and her addiction had gone out of control.
The cause of Amy's death has not been clearly established, but it's likely to have been the result of long-term substance abuse. Because of that, her family have decided to turn their grief into a good deed. In the face of the singer's level of fame and influence on the younger generation, Amy's family decided make a socially responsible use of her legacy and created the Amy Winehouse Foundation to raise money to support projects and charities working with young people. And the project kicked off today, when it would be Amy's 28th birthday.
Before she died, Amy had recorded a duet with legendary crooner Tony Bennet. The song is called Body and Soul and is being released today. Proceeds from the sales of the single will go to the Foundation. Tony and Amy's record labels, Sony Music Entertainment and Universal Music Group, will donate royalties from the track to the Foundation as well.
The video of Bennett's video with Amy Winehouse started airing continuously today on MTV, VH1 and MTV U with a 6am ET premiere followed by hourly airings through 9 am ET. MTV will air an encore prime-time premiere at 7:30 pm ET tonight. It will also be viewable on MTV.com.
Body and Soul is one of 17 tracks included on Bennett's DUETS II CD, coming out Tuesday, September 20. MTV said on its website that the footage of Toni and Amy singing together is "bittersweet". Amy looks "healthy and alert", MTV noted, and added: "She seems to enjoy the challenge of working with the icon".
The foundation's mission is to support young people, especially those in need for being ill, disabled, economically excluded or addicted to drugs. Sales of the Body and Soul track represent the first major donations to the Foundation.
"We want to give money to projects that make a direct difference. It is a source of great comfort to know that Amy would be proud of this and right behind it", said Amy's mother, Janis.
Image credit: MTV.com