Animals Affected by Sandy Need Your Help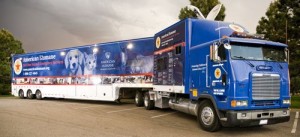 Natural phenomena like super storm Sandy wreaks havoc with people's lives but it can also be a nightmare for animals. For that reason the American Humane Association is working hard to help thousands of animals left homeless or lost in the aftermath of the storm. The organization has mobilized its 82-foot rescue rig which serves as a base and housing for its trained staff and volunteers to save animals.
Mars Petcare has provided aid but the organization still needs more funds to carry out its emergency work through its Red Star service. The team is on a mission to deliver more than 80,000 pounds of food, medicine and supplies to shelters in Atlantic City, N.J.; Bergen County, N.J.; and Staten Island, N.Y., and other locations that were hit hard by the hurricane.
As climate change accelerates, extreme weather conditions like Sandy are likely to become a recurring feature of life. The American Humane Association has compiled a few tips so people can prepare themselves for such natural events. This way, they can ensure the safety of their children and pets before, during and after the storms take place in their area.
Before:
•Tie down or anchor outside objects that might fly about and injure someone.
•Bring children and pets inside; bring outdoor animals inside with a carrier ready large enough to turn around and lie down comfortably.
•Review your evacuation plan and double-check emergency supplies, bowls, water, food.
•Have a carrier at the ready.
•If your family must evacuate, take your pets with you.
During:
•Choose a safe room for riding out the storm—an interior room without windows – and take your entire family there, including your pets.
•Stay with pets. If crated, they depend on you for food and water.
•Keep your emergency kit in that room with you (food, water, litter, meds).
•Know your pet's hiding places. That's where they may run; keep them with you.
•Secure exits and cat doors so pets can't escape into the storm.
•Do not tranquilize your pets. They'll need their survival instincts should the storm require that.
After the storm
•Make sure the storm has fully passed before going outside and assess damages before allowing children or animals out.
•Keep dogs on a leash and cats in a carrier, and children close at hand. Displaced objects and fallen trees can disorient pets and sharp debris could harm them.
•Give pets time to become re-oriented. Familiar scents and landmarks may be altered and cause a pet to become confused or lost.
•Keep kids and animals away from downed power lines and water that may be contaminated.
•Keep an eye on children's emotional reaction to the crisis. Talk to children – and just as important – listen to them. Reassure them frequently that you, local officials, and their communities are all working to keep them safe and return life back to normal. Watch for symptoms of stress, including clinginess, stomachaches, headaches, nightmares, trouble eating or sleeping, or changes in behavior. If you are concerned about the way your children are responding long after the crisis is over, consult your doctor, school counselor or local mental health professional.
•Uncertainty and change in the environment affect animals, too, presenting new stresses and dangers. Your pet's behavior may change after a crisis, becoming more aggressive or self-protective. Be sensitive to these changes and keep more room between them, other animals, children or strangers. Animals need comforting, too. Comfort your pet with kind words and lots of pats or hugs. If possible, provide a safe and quiet environment, even if it is not their home.
The New York Daily News has an article with stories about lost pets and what is being done in the New York area to help pet owners in distress. Another option is the Lost Petz app that has been developed to allow pet owners to send out an alert to members of their community when their pet goes missing.
Image credit: AHA