Are Your Eggs From Happy Hens? Aramark's 100% Commitment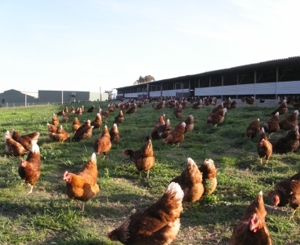 (3BL Media/Justmeans) – More than 95 percent of the approximately 280 million egg-laying hens in America are confined to barren "battery" cages. These small cages are crowded, depriving the hens of being free, to do natural things such as explore, nest, perch or simply stretch their wings. The birds endure painful beak trimming, stand on wire floors that cripple their legs, breathe toxic air and live their entire lives under unnatural lighting. In spite of these appalling conditions, profit and productivity for the industry remains high because these hens have been genetically selected to produce an excess of eggs – sadly, at the expense of their own health and welfare.
Encouraging the US food business to improve animal welfare standards in farming, is Compassion in World Farming, which holds the Good Farm Animal Welfare Awards held last month in Berlin. This year, Aramark was one of five winners for its notable work to improve animal welfare standards. The award was specifically created to demonstrate that awareness of farm animal welfare is quickly rising in the public and business consciousness. To qualify for this award, companies must either currently source 100 percent cage-free eggs, or have committed to achieving this within a five-year timeframe. At the end of 2015, Aramark completed the transition to purchasing 100 percent cage-free shell eggs in the US.
Aramark is also working to transition purchases of liquid, pre-cracked eggs by 2020, or sooner if possible. Plus, it has highlighted its mission to enrich and nourish lives, which means that providing safe, nutritious, quality food is completely aligned to the company's commitment to animal welfare.
Aramark announced its Animal Welfare Principles and Policy in 2015 and since then, has continued to make progress. The principles and policy represent the company's global position on farm animal welfare and also provides specific details on its purchasing commitments in the US. While the egg industry has experienced significant fluctuations in product availability and pricing over the last few years, Aramark has worked in partnership with its suppliers to ensure a sufficient supply of third party certified cage-free shell eggs. In purchasing 30 million shell eggs each year in America, it has impacted the lives of 115,000 hens.
American consumers are increasingly aware and concerned about how animals raised for food are treated. A 2015 survey by market researcher, The Hartman Group, found 44 percent of respondents saying they wanted to know more about how food companies treated the animals used in their products. While, almost half of consumers (47 percent) said they support companies that avoid inhumane treatment of animals; a six-point increase from a similar survey conducted in 2013. In addition, 65 percent of respondents indicated they want animals raised in as natural environment as possible.
Interestingly, in Europe, animal welfare in commercial poultry production is an important topic, receiving more legislative attention in the European Union than in many other regions of the world. Hopefully, cage confinement for hens will soon be a thing of the past.
 
Photo Credit: Compassion In World Farming