Bariatric Surgery is Cost-Effective for Diabetes Patients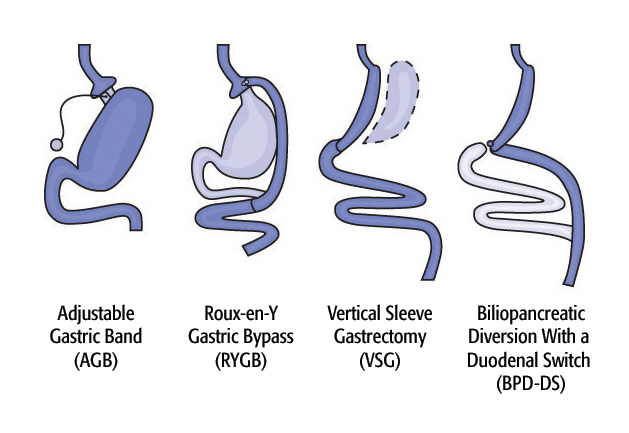 Various types of bariatric surgery
Approximately 285 million people around the world suffer from type 2 diabetes. Type 2 diabetes (formerly known as adult onset diabetes) occurs when the body becomes resistant to insulin. Type 1 diabetes is occurs when the body does not produce insulin and patients, starting from a very young age, must participate in insulin therapy in order to stay healthy. Type 1 diabetes is also known as juvenile diabetes, although more and more children are getting type 2 diabetes as the rate of obesity increases among children.
A study presented earlier this month at the 2nd World Congress on Interventional Therapies for Type 2 Diabetes indicated that bariatric surgery is a viable and cost-saving option for people who suffer from type 2 diabetes. Bariatric surgery reduces the size of the stomach, and reduces absorption in the small intestine. Bariatric surgery includes gastric bypass, biliopancreatic diversion, and gastric banding. In the United States, bariatric surgery can cost between $15,000 and $24,000. This cost is less than the ongoing treatments relating to managing type 2 diabetes and treating complications relating to type 2 diabetes – including glaucoma, kidney failure and frequent hospital visits.
The researchers looked at the data of 16 studies already done, comparing the cost effectiveness of morbidly obese patients who have received the surgery. They also found a greater benefit of performing the procedure on newly diagnosed patients. "Targeting recently diagnosed diabetes is likely to be more cost effective because diabetes remission rates achieved are higher in this group than in those with established Type 2 diabetes," says Catherine Keating, a senior research fellow from the Health Economics Unit at Deakin University in Melbourne, Australia. "Some of the studies I analyzed, particularly those targeting therapy for patients with recently diagnosed Type 2 diabetes, have found that the costs of surgery may be fully recouped through prevention of future health care costs. This excellent result is fairly rare."
The news may be beneficial to patients found in the "Diabetes Belt". After detailed research of 644 U.S. counties, researchers have found the highest prevalence in Alabama, Arkansas, Florida, Georgia, Kentucky, Louisiana, Mississippi, North Carolina, Ohio, Pennsylvania, South Carolina, Tennessee, Texas, Virginia and West Virginia, creating a "belt" within the U.S. The Diabetes Belt has similar characteristics to the Stroke Belt, which is also concentrated in the southern U.S. Similarities among these counties include poor diet, sedentary lifestyle, lower education levels and higher concentration of African-Americans. This implies that local jurisdictions need to focus community efforts on improving lifestyle habits such as diet and exercise.
Photo courtesy of the Walter Pories, M.D. FACS. , U.S. National Institute of Diabetes and Digestive and Kidney Disease (NIDDK), National Institutes of Health (NIH)