Better Places Prepares to Spread Electric Vehicles With A New Taxi System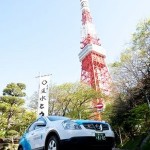 As electric vehicles continue to spread throughout the marketplace to individual consumers, governments and business are also looking into how they can best use electric vehicles to clean up their motor fleets. In some cases, city governments are beginning to acquire electric cars for use by city workers as they carry out their day to day business. However, governments are starting to believe that simply using electric cars for daytime work does not necessarily lower carbon emissions by any significant number and greater measures must be taken. Better Place, a company that hopes to spread electric vehicle use around the world, is working with cities to bolster the electric vehicle networks.
One of Better Places' most recent electric vehicle projects is to be done in conjunction with the cities of San Jose and San Francisco, California. The company will be working with the two cities to establish an electric vehicle based taxi system that will service each of the location's major areas. The taxis will be powered by batteries that are charged by a local electric grid and the system itself is receiving support from local taxi agencies, city public works departments, the United States Department of Transportation, and many electric vehicle organizations. Once completed, Better Places had said that the taxi network will service thousands of people.
For the company, however, this is but one more milestone in their plan of spreading electric vehicles around the world. Better Places has also approached Hawaii in order to carry out a similar project there and Ontario has partnered with them to promote the use of electric vehicles. Worldwide, Better Places has begun working with Australian governments and institutions to establish electric vehicle fleets; they have partnered with Chinese car manufacturer Chery Automobile Company to create electric vehicle technology, and have also begun working with Denmark to promote the use of electric vehicles.
Japan in particular has benefited from Better Places' electric vehicle plans with a taxi system demonstration that was in place in Tokyo earlier this year. The taxi system was established with the cooperation of Nihon Kotsu Company, one of Tokyo's largest taxi companies, and uses a similar battery switch system that will be used in San Francisco and San Jose. The idea is that having fully charged batteries readily available for the taxis to pick up and install meaning that they can spend more time servicing customers and less time sitting in the garage being charged. The company is also currently working with Israel to set up a taxi system and electric vehicle grid in many major cities including Tel Aviv and Jerusalem.
While there is not a set date for when the taxi system will be established in both of the Californian cities, many see this as an excellent way to promote the use of electric vehicles both locally and internationally. The hope is that the people visiting the two cities will ride in the electric vehicle taxi, experiencing their first electric vehicle ride, and will take that experience with them back home and recognize the worth of the technology.