Bloomberg Opens One of the World's Most Sustainable Buildings in London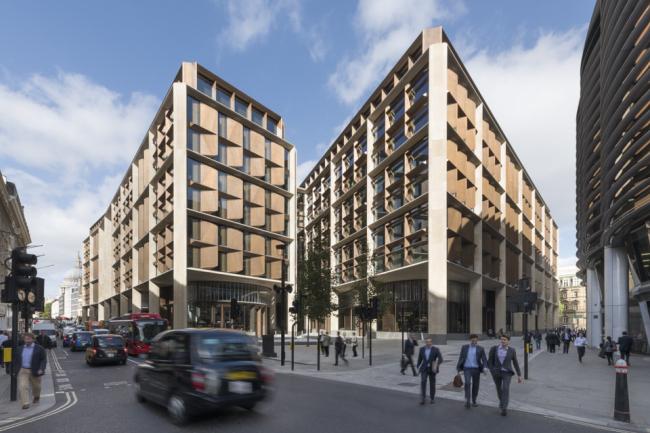 (3BL Media/Justmeans) - Michael Bloomberg, billionaire media mogul and former mayor of New York, said at a technology conference in Boston last month that Brexit is the "single stupidest thing any country has ever done" apart from the election of Donald Trump as US president. A few weeks later he was in London to open a new European headquarters, an event attended by the Mayor of London, Sadiq Khan, and the building's architect Lord Foster, Founder and Executive Chairman, Foster + Partners. The opening showed that, despite Brexit, London is open for business. The new HQ represents a major investment for the UK economy.
The new building, located in the heart of the City of London, is the first wholly owned and designed Bloomberg building in the world. Designed to encourage collaboration and innovation, it will bring Bloomberg's 4,000 London-based employees under one roof for the first time. It is a strong example of what can be achieved by combining British architecture with the latest green technology to reduce an impact on the environment. Specifically, it is a demonstration of sustainable development with a Building Research Establishment Environmental Assessment Method (BREEAM) outstanding rating' and the highest design-stage BREEAM score ever achieved by any major office development in the world. Art plays a central role in the project, with eight major contemporary art commissions in and around the building.
Designed to complement historic neighbouring structures and to age gracefully with time, this Bloomberg building is the biggest stone project in the City of London in a century. It blends locally sourced, natural materials with the best of international craftsmanship. It is located on one of the UK's most significant archaeological sites, the ancient Roman Temple of Mithras, which will be open to the public, free of charge. The reconstructed temple will be showcased, along with a selection of the remarkable Roman artefacts found during recent excavations. Also presented will be a series of rotating contemporary art commissions responding to the site's lengthy history.
This new cultural hub reflects Bloomberg's belief that it should provide the highest standards of sustainability and wellbeing for its occupants, as well as create major new public spaces at ground level, thus making a significant contribution to the daily life of the City of London and its inhabitants. This thinking is clearly reflected in a privately commissioned economic impact study, which shows that almost 90 percent of the project's expenditure was retained in the UK over the course of construction. Around half of that sum was spent with local suppliers in London, including the employment of 13,500 construction workers (9.5 million man hours).
This new Bloomberg HQ represents a huge vote of confidence in London as a destination for global business, and that the capital will continue to be the home of Bloomberg's European operations.
Photo Credit: Bloomberg on 3BL Media