Bombardier Transportation Calls for Cities to Adopt Rail Technology for Sustainability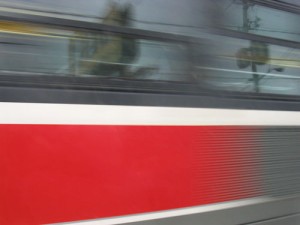 By: Meirav Even-Har, Toronto
What are the ingredients to a liveable, sustainable city? According to Corporate Knights' 2012 Greenest Cities in America and Siemens' Green City Index, a well functioning, green public transportation network is key. Good mass transit means less commute time and easier access to goods and services by all city dwellers, not exclusively car users.
For Bombardier Transportation, provider of innovative rail technology products and services in sustainable mobility, mass urban transportation is a present opportunity for a better future. A division of Canada's Bombardier Inc., the world's only manufacturer of planes and trains, the company's case for increased public transit solutions, is in direct relationship with the future sustainability of global cities.
Sustainable Transport in the Cities of the Future
For the 2012 Earth Summit, widely known as Rio+20, Bombardier Transportation took the opportunity to call on delegates to consider rail technology as solution to emissions and congestion, while improving the lives of people through better urban connectivity. The Rio+20 negotiations considered transport within the context of cities and urban development. Speaking on behalf of Philippe Citroën, Director General of the European Railway Industry Association (UNIFE), Bombardier's Chief Country Representative in Brazil, André Guyvarch said: "Transport makes up the bulk of emissions worldwide. We are here to show that rail transport is part of the solution to the problem. With technologies that are available today, rail can improve the lives of citizens around the globe by providing comfortable and reliable transport at minimal environmental cost. Investing in sustainable transport now means investing wisely in the future."
In the statement, UNIFE, together with the International Association of Public Transport (UITP) and the International Union of Railways (UIC), urged the endorsement of a modal shift towards rail and public transport. Recommendations include:
1."Strengthen institutional arrangements to advance sustainable transport involving UN development agencies and banks, carbon finance instruments and the private sector.
2.Shift development finance towards creating more sustainable communities recognising the essential link between land use and infrastructure.
3.Endorse and reward actions aiming to achieve the ambitious target of doubling the market share of urban sustainable transport by 2025.
4.Adopt targets and indicators to better measure progress towards sustainable transport."
Bombardier Green Fund: Walking the talk
Created in 2010, the Bombardier Green Fund supports the company's strategy to improve its overall environmental performance. Employees are encouraged to submit project ideas. "We want to leverage their insight and understanding of our day-to-day operations and engage their enthusiasm for Moving Forward Responsibly, helping embed our commitment to corporate social responsibility at all sites," reads Bombardier's corporate social responsibility website.
Bombardier's Transportation group plans to launch approximately 400 Green Fund projects in by 2020. The company's website estimates the projects will help reduce GHG emissions to help achieve carbon neutrality in operations within eight years.
The Transportation group's Carbon Neutral Champions Network helps drive Green Fund projects, and are part of a worldwide network from 20 sites, which systematically share best practices.
To learn more visit Bombardier's CSR website
To read the official press release click HERE
###
Bombardier Calls on World Leaders to Embrace Sustainable Transport, Bombardier Inc. 3BL Media Press Release, Thursday, July 5, 2012 - 12:00pm http://3blmedia.com/theCSRfeed/Bombardier-Calls-World-Leaders-Embrace-Su...
Sustainable Transport in the Cities of the Future by International Association of Public Transport (UITP), the International Union of Railways (UIC) and the Association of the European Rail Industry (UNIFE) http://goo.gl/yYJ3P
Environmental Initiatives Bombardier Corporate Social Responsibility website http://csr.bombardier.com/en/operations/environmental-initiatives
Image: Streetcar All Blurred, by Gloom (Creative Commons via Flickr)