Campbell Makes Good on Commitments to One of America's Most Violent Cities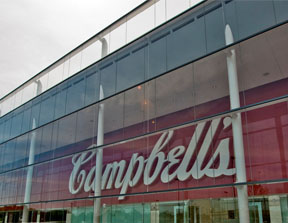 Campbell Soup Company (NYSE:CPB) today announced the first year results of its 10-year program to improve the health of young people in Camden, N.J.
The program, called Healthy Communities, focuses on providing access to affordable, healthy food; expanding the availability of and participation in physical activity; increasing education about nutrition and health; and promoting public demand for a safe and healthy Camden.
Once a thriving industrial center, Camden has seen a precipitous decline in recent decades. Three of the city's mayors have been jailed for corruption since 1981, and Camden has consistently ranked at or near the top of the Congressional Quarterly's annual list of most violent cities in America. Camden was second on the most recent list behind Flint, Mich.
Campbell has been headquartered in Camden since 1869 and remains committed to the community. "We're beginning to make a difference to Camden's residents, and are only at the beginning of a 10-year commitment to the health of the city's children," said Kim Fortunato, Director of the Healthy Communities program.
In the first year of the $10-million program, Campbell funded approximately 108,000 hours of physical activity for 1,400 Camden youth. The company also created 28 new healthy food access sites, like mobile farmer's markets and fresh produce displays in corner stores, that served over 12,700 Camden residents in their neighborhoods.
Additionally, Campbell provided cooking classes for teachers and families, created a group pre-natal mentoring and nutrition education program, and started "Community Conversations at Campbell," a series of discussions with community members and employees to improve healthy food access in Camden.
"There's still much to do," said Fortunato, "especially since Camden's 40 percent child obesity rate tops the national average of 32 percent.  We can't solve the problem overnight, but we're giving Camden residents some better choices and knowledge about healthy decisions.  In fact, we hope our Healthy Communities work will lay the foundation for similar programs in other Campbell hometown communities."
Access to healthy food is an increasingly pressing issue in the United States. Obesity rates have spiked in the U.S. since 1980. The Organisation for Economic Co-operation and Development said this year that the United States has the highest obesity rate in the world, and a recent report by the Robert Wood Johnson Foundation projected that half of American adults could be clinically obese by 2030.
The situation is often worse in violent urban areas, where fresh produce is scare and safe playgrounds are scarcer.
Campbell said that it will add two new sites to the Healthy Communities program next year. The company will also continue to invest The Food Trust's nutrition education curriculum and Healthy Corner Store Initiative.
Campbell has been recognized as a global corporate social responsibility (CSR) leader. This year, the company was named to the Dow Jones Sustainability North America Index for a fourth consecutive year and the Dow Jones Sustainability World Index for a third consecutive year. Campell has issued a CSR report using Global Reporting Initiative G3 guidelines since 2010.
Image Credit: Campbell Soup Company