Canadian Oil Sands Discourse: Bad or Good for Business - Depends on Who's Talking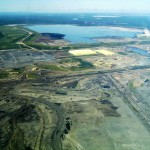 By: Meirav Even-Har, Toronto
With the news that TransCanada Corporation would reapply for a permit to build the Keystone XL pipeline from the oil sands in Alberta to the Gulf of Mexico, the oil sands discussion is back in the media. It didn't really leave. Last week was a crucial vote by the EU on its fuel directive, which generated much attention. While environmental and community groups have argued against expansion of the oil sands, provincial governments now find each other at odds, as well.
Alberta and Ontario do not have the reputation of having much of a warm relationship. Ontario premier Dalton McGuinty rejected a recent comment from Alberta's Alison Redford that his province should be more vocally supportive of oil sands development, because of spinoff economic benefits. In a Globe and Mail article, Mr. McGuinty noted that that the high Canadian dollar has "...knocked the wind out of Ontario exporters and manufacturing in particular. "So if I had my preferences as to whether we had a rapidly growing oil and gas sector in the west or a lower dollar, I'll tell you where I stand: with the lower dollar."
This latest Ontario versus Alberta stance is bringing to light the new face of Canada, one that sees a decline in the financial heart of the country, as western growth continues to rise.
Ms. Redford, the Alberta premier, was citing an economic study by the Canadian Energy Research Institute (CERI), which notes "Ontario is expected to see $63 billion in economic spinoffs and 65,520 oil sands-related jobs between 2010 and 2035." Mostly, the oil sands create work through direct employment and through contracts granted to suppliers. Building pipelines like the Keystone XL requires machinery, metal fabrication and manufacturing.
Aside from the argument of whether dollars generated from the west help the rest of the country, it is important to note that Canada's love-hate relationship with the high Loonie is not new, and not exclusive to the oil sands. Over the past two decades, decline in the forestry sector, particularly pulp and paper industry, has occurred, and fluctuations with the dollar were blamed. However, Canada exports raw materials to be refined or processed elsewhere, creating resource dependent communities that eventually dwindle, due to shifts in product demand or resource depletion.
While Ontario's auto and manufacturing sectors are not reliant on natural resources, it does call to question what will happen once Alberta oil dries up, or the world shifts to cleaner energy sources. Ontario has been attempting to diversify its economy through the introduction of new policies under the Green Energy and Green Economy Act (2009), and the Water Opportunities and Water Conservation Act (2010). Both aim to encourage a shift to move the province toward a green economy while increasing investment and innovation in clean energy and water technologies. Although applauded, the reliance of so many on the manufacturing sector for so long means positive change hasn't been felt.
It seems that while a high Canadian dollar hurts Ontario businesses, the argument for slower oil sands production to help our exports remains weak. Overall, Canada is benefiting from economic growth due to its natural resources exploitation. This nation's ongoing reliance on extracting and shipping raw natural resources for economic growth is both a blessing and curse. Unlike Mr. McGuinty's stance, our troubles continue not because of a higher dollar, but rather the way we go about producing goods in the first place.
NOTES
The New York Times, Published: February 27, 2012. http://nyti.ms/zZ5IEN
The Globe and Mail, Published: February 29, 2012. http://bit.ly/xW7nGl
Same as above.
Government of Alberta: Alberta's Oil Sands. http://bit.ly/xGosvv
Photo Credit: Syncrude Mildred Lake Plant (Wikimedia Commons)