Cascades, Canadian Paper Company, Proves Paper is Not Always a "Bad Word"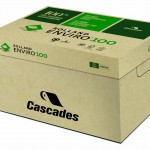 By: Meirav Even-Har, Toronto
As a greater number of companies are advocating for a paperless workplace, Canadian company Cascades offers products that redefine how we think about paper. Cascades Fine Paper Group, part of Cascades Inc., is a Quebec-based company that has made recycling and recycled products its core business since 1964.
The company manufactures fine papers and security papers by using 50% and 100% post-consumer fibre. Cascades promotes its fine paper as having the smallest environmental footprint. "Cascades is a company that is committed to the beneficial use of resources," notes Julie Loyer, Communications and Sustainable Development at Cascades Specialty Products Group. "We manufacture environmental papers with a maximum amount of recycled fibres; we use no chlorine and renewable energy, and work with credible environmental organisations. This is how we give life to our philosophy."
Certifications, Life Cycle Assessment and Electronic Solutions
Consumers have a lot of products to choose from including product certifications such as: Forest Stewardship Council (FSC), Sustainable Forestry Initiative (SFI) and in Canada, Eco Logo. And while certification is important, what sort of paper has the least environmental impact? Is the most environmentally responsible decision to not use paper at all?
The use of Life Cycle Assessment - or LCA - is meant to answer the "what is more sustainable" question. After all, producing an electronic reader, for example, requires resources to be mined, intensive production processes, then the use of electricity to charge the battery. Disposal may also be tricky. But then again, a paper product does not last as long, and or used for multiple purposes.
Since LCA follows a rigorous methodology, an exercise comparing hypothetical electronic devices versus paper products is not easily found. However, Cascades did conduct its own LCA work comparing two of it products: the Rolland Opaque50 and Rolland Enviro100 to a North American Virgin sourced and 100% recycled paper. The result is impressive: Cascades paper products had the lower environmental impact.
Sustainable Paper = Profit
Being part of a larger group of companies can be advantageous; Cascades Recovery is the largest in Canada with municipal and large building contracts, ensuring the Fine Paper Group has its own stable, secure source of fibre. For 93% of the thermal energy, the company uses liquefied biogas from a nearby landfill. Thermal energy is used for hot water steam during the manufacturing stage.
Like any business, it is important to connect it back to the bottom line - do consumers care? Does having a certified recycled paper product important enough to pay more?
Julie Loyer answers: "Environmental papers have been a good business decision for Cascades," Ms. Loyer explains. "Sales of our 100% post-consumer family, Rolland Enviro100, is growing year after year, demonstrating the wish of our customers to buy environmentally friendly products. Sales of Rolland Enviro100 have increased by 43% in 2010 and by 46% in 2011."
Getting customers to appreciate their choice is also important. An online environmental footprint calculator allows a company or individual to compare their Cascades product use with 100% virgin sourced or 100% recycled paper. The environmental savings are summarized in number of trees, water, CO2, waste, energy units, and NOx.
With sales increasing, it seems that the market for paper is here to stay - at least for now; and Cascades is successfully creating products that helps us use paper with a little less guilt.
Photo courtesy of Cascades Specialty Products Group