Cirque du Soleil's Global Citizenship: Creative Approaches to Drive Social Change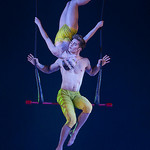 By: Meirav Even-Har, Toronto
Pictures of water from space graced the centrefold of The Globe and Mail last week. Not a project by the Canadian Space Agency, but one by the co-founder of Cirque du Soleil, Guy Laliberté, the first Canadian "space tourist. In 2009, Laliberté bought a round-trip ticket to the International Space Station. Aside from the performing arts, his passion is conserving the world's water systems. While in space, he photographed many of the Earth's endangered waterways. GAIA, a ONE DROP project, is a public photography exhibit that is meant to raise awareness of water related issues.
The more I read about Cirque du Soleil, the more impressed I am with the company's efforts to contribute to the social well being of communities where it performs and resides. The following is a small selection of Cirque du Soleil's Global Citizenship efforts, and ONE DROP's mission.
Community Investment: Youth-at-Risk
Through the circus arts, the company is working in creative ways to help at-risk youth, (especially the homeless) reach their potential. "Social circus is an innovative social intervention approach based on the circus arts," reads the Global Citizenship website. Social Circus engages various youth groups by using circus arts as a way to develop and strengthen social skills. The program encourages self-esteem, leadership, and gaining trust in self and others. "Social Circus is a powerful catalyst for creating social change because it helps marginalized individuals assume their place within a community and enrich that community with their talents." Since 1995, Cirque du Monde, a Social circus program, can be found in more than 80 communities worldwide, in partnership with many local organizations.
An Integrated Part of the Artistic Community
As an active member of the global artistic community, Cirque du Soleil works in partnership with institutions and independent organizations in the performing, visual, and circus arts. Through Cirque du Soleil's Cultural Action programs, the company offers artists exhibit space at its Montreal International Headquarters and at its Resident Show Division offices in Las Vegas. Cirque du Soleil recognizes the additional benefit to employees by having a creative workplace and exposing staff to new artistic talents.
ONE DROP: Water for all, all for water
Founded in 2007, ONE DROP Canada "develops integrated, innovative projects with an international scope, in which water plays a central role as a creative force in generating positive, sustainable effects for local and foreign populations and in the fight against poverty."
Working with various partner organizations, ONE DROP has two streams of operations: Developed and Developing countries. The approaches are different in recognition of the needs that vary geographically and along a social divide. In countries such as Canada and the US, the organization aims to educate about water issues and inspire change through fun, engaging activities.
In developing regions, some projects are managed in partnership with organizations such as Oxfam for technical implementation of improving access to water. ONE DROP also grants micro loans to help communities launch income-generating initiatives, which also ensures the longevity of technical projects. ONE DROP currently has projects in Nicaragua, Honduras, Haiti, El Salvador and India.
To learn more about the GAIA project click HERE
###
NOTES
The Globe and Mail: World of Water as Seen by Canada's First Space Tourist
http://www.theglobeandmail.com/technology/science/a-world-of-water-as-se...
Cirque du Soleil: Social Circus (Global Citizenship website)
http://www.cirquedusoleil.com/en/about/global-citizenship/social-circus....
Ibid
ONE DROP Canada: Who We Are
http://www.onedrop.org/en/DiscoverOneDrop_Canada/WhoWeAre.aspx
Image Credit: TOTEM by Cirque du Soleil (By TBWABusted, Creative Commons via Flickr)